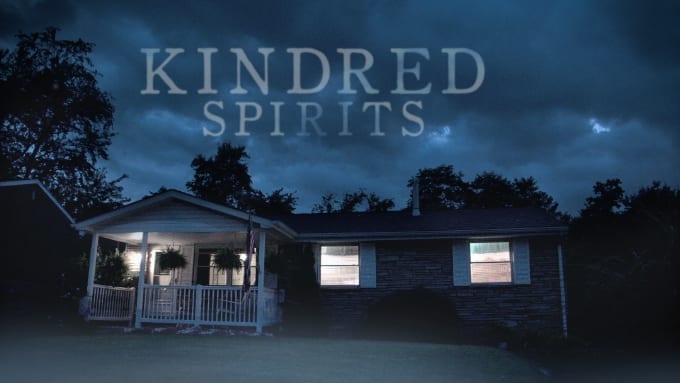 Review | Kindred Spirits
Review | Kindred Spirits
Kindred Spirits is a paranormal reality TV series on Travel Channel. It follows Amy Bruni and Adam Berry as they investigate some of the most haunted places in the country. Get our review after the jump.
Kindred Spirits Background
Kindred Spirits first aired on Destination America in 2016. It moved to TLC for its second season, and now airs on Travel Channel. It stars Amy Bruni and Adam Berry, both of Ghost Hunters. The show follows the investigators as they (formerly) research private residences. Their goal is to discover a family link to the haunting. This changed in Season 3, which now focuses on dark entities and clearing them.
Ghostly Activities' review is based on the first 3 episodes of Season 3.
Episode Structure
Like most ghost hunting shows, Kindred Spirits starts with narration about the haunted location. Then, there are interviews with witnesses, and Amy provides some history about the haunt. Next, the experiments begin, the team provides evidence, clues become discovered, and a solution provided to close the case.
During each episode, research is very much a focal point. Amy was the researcher for Ghost Hunters and it shows. It gets used as a transition point for each experiment. The team also gives detailed descriptions of gadgets before shifting into an experiment. Overall, the pacing is fast and they don't pad episodes with unnecessary B-roll.
Ghost Hunting Experiments & Evidence Quality
The experiments are my favorite part of the show. Amy and Adam use some advanced techniques during their investigation. They'll use techniques like ITC sessions with a spirit box, try occult techniques, and use everything in-between.
While I appreciate the reasoning behind experiments, we don't see much or hear much evidence. This is different from other ghost hunting shows, like Ghost Adventures and Paranormal Lockdown. Those shows stress the evidence, while Kindred Spirits is more about solving the puzzle. If you're a casual watcher of paranormal shows, you may be disappointed in Kindred Spirits' evidence.
However, we do get to see or hear it: It's just not replayed much. For example, Amy tends to run most EVP sessions and she'll play back the recordings once. If there's nothing recorded, she simply moves on. Adam tends to focus on visual evidence. He uses a SLS Kinect device to show possible apparitions. But, it's not always used correctly. I've seen a few false positives make it on-air. Specifically, in S3E1, "No Salvation," John Tenney ducks and Adam points the SLS Kinect above him to find a spider-like entity. Ghostly Activities has tested the device, and it's prone to false positives unless it's mounted on a tripod and angled down. In Adam's case, it was held in his hand and pointed up. I've done that and had false positives recorded.
But, the show focuses on using the evidence to solve the case. It doesn't make it the main point of their investigations. This is actually refreshing angle compared to other shows.
Ghostly Activities' Take on Kindred Spirits
Kindred Spirits is one of the better paranormal reality shows, but I watch it more for the investigators' reasoning. I will give them kudos for the experiments they run, but some of the methods provide questionable results. For example, the Gettysburg (S3E3) experiments, using a blindfold, spirit box and noise-cancelling headphones, are well done. But the flashlight test can be fraught with questionable results.
Another standout on this show is the use of experts and Amy's research techniques. They'll bring in antiquity experts, occult experts and psychic mediums to find out what spirits want. The team takes the experts' advice and see how it matches their evidence. Then they'll run some more experiments, and Amy will use her research to see the big picture and solve the case.
Finally, I appreciate how they offer solutions to clear dark entities. In the first episodes of Season 3, "No Salvation" and "Satanic Panic," Amy and Adam helped the clients clear them in the last minute. I would like to see more explanation why they chose to clear the spirits this way.
So, I make it appointment TV to watch this show (or watch it on demand). I think you can learn from their research, interviews techniques and how they conduct experiments. Although, I have some quibbles with their gadget selections. It's probably the most well-reasoned paranormal reality show airing now.
You can watch Kindred Spirits, every Thursday night at 10 PM ET, on Travel Channel. The production company is Paper Route Productions.
Featured image: ©2019 Paper Route Productions. Retrieved from https://www.paperrouteproductions.com/kindred-spirits on February 12, 2019.