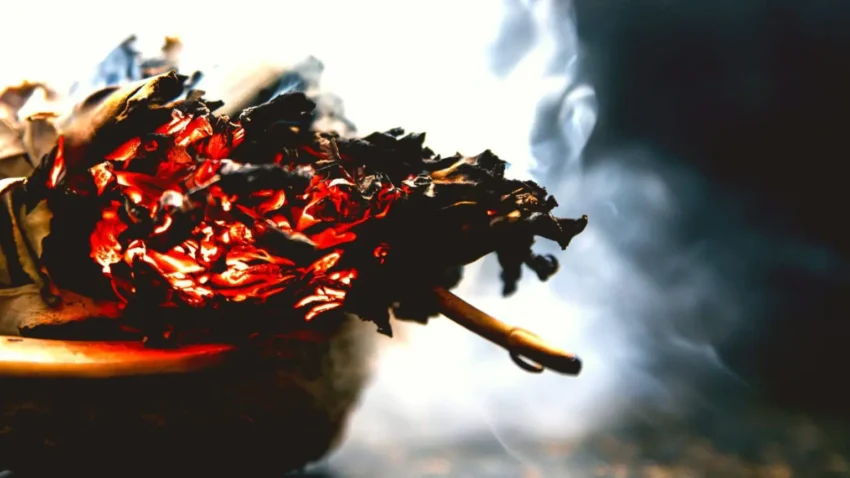 Sage & Smudging To Clear Negative Energy & Ghosts
Sage & Smudging To Clear Negative Energy & Ghosts
Sage, a popular herb, can protect from bad energy, negative spirits and black magic. But most people don't use it enough or in combination with other plants to do the job right. Get more after the jump.
Sage Used For Ghost Protection Or Clearing Bad Energy
Adrian White of Healthline wrote about 11 different benefits of burning sage, but only 2 dealt with cleansing, purifying and protecting homes and people. Let's examine those below:
Used To Cleanse Or Empower Objects (Including Yourself)
Most people don't realize, you can smudge yourself to break any attachments or negativity stuck to you.
I'm more familiar with smudging for items brought into your home from yard sales, estate sales, auctions and thrift shops. These places have quite a few haunted objects, anchors and fetters. Smudging can help break any attachments.
As it applies to paranormal investigations:
Haunted objects can generate abrupt and violent ghostly encounters. During your interview process with a client, ask if they brought any used items into their homes. Then, check to see how long after the activity started. Haunted objects tend to generate ghostly activity with a few weeks. Anchors are rather subtle, and it can take longer (think 3 months) before something manifests. With fetters, it could take years to realize what's happening, but fetters target individuals, not an entire home.
Used To Clear Bad Energy
For people with psychic abilities or healers, bad energy can interfere with your intuition. It can also attract dark entities. These things like to feed on negativity, and then they increase the amount, too.
Smudging tends to dispel the negativity. We're not sure how long it lasts, but many people have to repeat smudging. This isn't the kind of clearing you use to knock out the residue left behind by someone else. We're talking the worst-of-the-worst.
As it applies to paranormal investigations:
There's speculation that ions build up when ghosts manifest. Smudging can neutralize them, but that means you may remove a benevolent spirit or block it.
In other cases, smudging isn't strong enough to clear an entrenched spirit. It also won't work on ghost portals. If the entrenched spirit is intelligent, it could get angry and begin to use physical touch to stop you. This is very rare, and I doubt you have anything to worry about.
Residual hauntings won't be affected by sage. These hauntings are harmless. They're an echo from the past, imprinted on the area. You simply have to wait for it the energy to dissipate on its own.
Does The Kind Of Sage Matter?
First, sage is called salvia by gardeners and botanists. It's a perennial herb in the mint family. You may see other authors use salvia as a type of sage, but all sage is salvia (Beaulieu 2020).
With the paranormal community, white sage (salvia apiana) and diviner's sage (confusingly nicknamed salvia) are the most commonly used types for clearing negative energy. You may also hear about white prairie sage, a wildflower in the genus, Artemisia ludoviciana, but it's not in the salvia family. Diviner's sage can cause hallucinations, and it's banned in a few states. Check with the law before you buy it!
While 2 or 3 previously mentioned sages were cited often, I didn't find any source that said it had to be white, salvia or white prairie sage. Common sage received approval to use (Gruben 2016).
How To Use Sage To Clear Ghosts & Bad Energy
Creating the incense or burning the sage is a shell is the most common way to smudge. I'd recommend smudging once-a-week for 4 weeks to clear residual energy. It may take more-or-less, depending on the energy in your home. In some cases, you have to add more herbs into the mix to get a desired result. See the steps below to learn how to smudge (Renee B. 2020):
The Spirit & Muse blog contains a more in-depth look into these summarized below. Check them out with the link right before these steps for addition information.
Starting to smudge

Light end of sage stick until fire create smokes, then blow it out. You'll use the smoke to smudge. Also, start on the bottom floor and work your way upstairs.

Clearing a room

You'll repeat this step for every room in your home. Pick one to begin and start in the corners. Use a feather or your hand to waft the smoke into every corner, nook, cranny and furniture. Open a window or door to let the negative energy out. It's also important to state your intention, like "All negativity and spirits must leave this home" as you smudge.

Using intuition as a guide

Listen to your intuition for how long you spend in a room. Once you hear your little voice say you've finished, move to the next room. For those that need more guidance, figure you'll spend 5-10 minutes smudging each room. Close windows and doors after your finish a room.

Finishing up the smudging process

After you finish every room, go to your home's entrances and smudge them, too. This includes front door, back door, any large windows, even the fireplace. This will help seal any bad energy out. Some people like to thank their deity for helping at the end.
Is It Cultural Appropriation To Smudge?
Today, we want to be respectful of any ritual that borrows from other religions. Smudging is a Native American ritual practiced by shamans (Stone 2020). To be respectful, understanding the ritual as used by indigenous people is a great start, but Ms. Stone does make a good point to start with your religious belief system first.
Many earth-centered religions, which have shamanic training, include smudging as part of their rituals, so I don't personally see it as appropriation: It's a religious practice used in that faith. This is more for people outside paganism. For me, I'd use incense from my Buddhist practice before I'd jump into smudging with sage. If I needed to sage, I would contact a Native American tribe to make sure I do it correctly and respectfully.
References
Beaulieu, David. "10 Popular Species of Salvia," The Spruce, Nov. 11, 2020 (updated), retrieved from: https://www.thespruce.com/common-types-of-salvia-flowers-annual-and-perennial-4767399 on Dec. 17, 2020.
White, Adrian. "11 Benefits of Burning Sage, How to Get Started, and More," Healthline, June 22, 2020 (updated | reviewed by Debra Rose-Wilson, RN on Oct. 25, 2019), retrieved from: https://www.healthline.com/health/benefits-of-burning-sage on Dec. 17, 2020.
Staff editors. "Artemisia ludoviciana (White Sage)," Minnesota Wildflowers, Aug. 19, 2020 (moderated), retrieved from: https://www.minnesotawildflowers.info/flower/white-sage on Dec. 17, 2020.
Augustine, Stephen. "Smudging Ceremony Explained by Stephen Augustine, CBU," Cape Breton University, Oct. 4, 2016, retrieved from Cape Breton University YouTube channel on Dec. 17, 2020.
Stone, Abbey. "When Non-Native People Burn Sage, It's Cultural Appropriation—And We Don't Support It." Well + Good, Sep. 18, 2020, retrieved from: https://www.wellandgood.com/how-to-sage-your-home-correctly/ on Dec. 17, 2020.
Gruben, Michelle. "Sage advice: An illustrated guide to smudging herbs," Grove & Grotto, Jan. 10, 2016, retrieved from: https://www.groveandgrotto.com/blogs/articles/100896071-sage-advice-an-illustrated-guide-to-smudging-herbs on Dec. 17, 2020.
Renee B., "How To Sage (Smudge) Your Home, Office, And Yourself," Spirit & Muse Blog, no date, retrieved from: https://www.spiritandmuse.com/spirit-muse-blog/how-to-sage-smudge-your-home-office-and-yourself on Dec. 18, 2020.