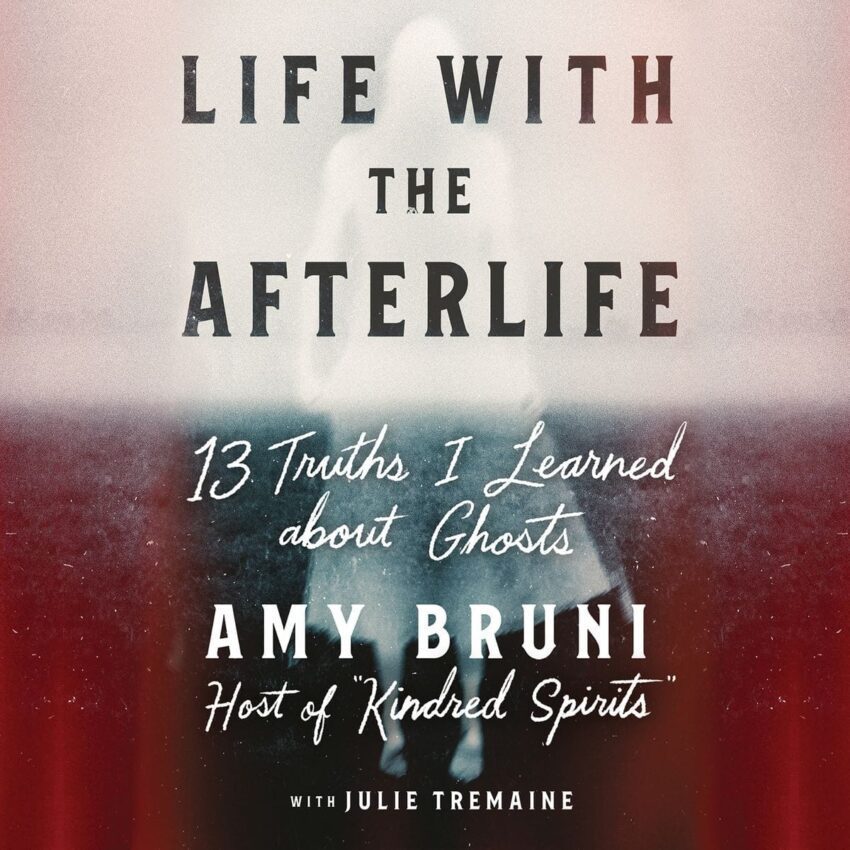 Book Review | Life with the Afterlife by Amy Bruni
Book Review | Life with the Afterlife by Amy Bruni
In October 2020, Amy Bruni, of Kindred Spirits and Ghost Hunters fame, released a memoir about her life as a paranormal investigator. It covers 13 lessons she's learned over the years and tells tales of some ghostly encounters. Get the review after the jump.
Book Review for Life With The Afterlife
For this review, I'll measure the book against the following criteria:
Overall content
Writing quality
How well we get to know the author (it's a memoir/essay series after all)
Production quality
Life With The Afterlife Background
This is a bit of speculation here, but it seems like the book was written after Season 4 of Kindred Spirits and the time Amy and Adam Berry (her ghost hunting partner from TV) worked on the glossy magazine, Ghost Hunting: True Tales of the Paranormal, for Meredith Publishing. The book even has the same editor, Julie Tremaine, as the magazine.
Writing Approach
The book reads like a series of personal interviews with elements of how-to ghost hunt throughout. Some of the tales are straight playbacks of episodes of Ghost Hunters and Kindred Spirits. If you watch the shows, like I do, you'll recognize them right away. At the end of each chapter, there's a case study example in a gray box. Sometimes, they feel intrusive and, at other times, they really hit the spot for the point Amy's making.
This is an easy read and works well as an audible book. With its conversational tone, you can imagine yourself sitting across from Amy as she tells you about her adventures and learnings. Still, it seems like each chapter is a section of a magazine. In a way, I like that, but it doesn't feel like a book. Books allow you to get into the nitty gritty. This one seems to stop just short of that depth.
Primary Book Focus
The hook for the book is the '13 truths' Amy's learned over the years as a paranormal investigator. Some seem like common sense like the chapter, "Ghosts Are People, Too." Also, I learned a thing or two in a few chapters ("Ghost Hunting Is a Hobby, Not a Career" and "It's Not Always a Ghost").
With each truth, Amy details her personal life experiences, what she learned on her path, and then gives a story to illustrate the truth. I like this approach. In its conversational tone, it sunk in with me.
There's a different ghost-hunting side to Amy that we don't always see from her TV shows' editing. I felt like I knew her better as an investigator and person after reading the book.
Surprising Elements
As with any type of memoir, we should get something salacious or shocking out of it.
I don't think we really got that from the book. The big question is "Why did you leave Ghost Hunters?" She did answer that question, by the way.
I think the most surprising element was how much care she puts into her ghost hunts, and she's a bit more technical than I thought. You see, when I watch Kindred Spirits, I'm thinking they'll just use a spirit box, the Estes Method, and maybe a SLS Kinect will come out. But there's more to their approach than we see on TV.
The chapters that take a more technical approach include "You're Not Crossing Anyone Over (Ever)," "It's Not Always a Ghost," "There's No Such Thing as a Ghost Detector," and "There's No Right Way to Find Spirits."
The most impactful chapter for me is "You Don't Need to Prove That Ghosts Exist." This one did make me re-think my approach to ghost hunting. If you want to learn about Amy's technique, then "There's No Such Thing as a Ghost Detector" is the chapter for you.
Disappointing Elements
Not everything hit the mark, however. I didn't really care for the playbacks of Kindred Spirits and Ghost Hunters. When I buy a biographical book, I know we'll likely get some re-hashing of episodes and shows. But, I want to read about stuff outside the TV series. Really, there's some stuff that reads like a screenplay for an episode, like in "It's Not Always a Ghost."
Conclusion
I do recommend the book. There's good practical advice for ghost hunters; it's an easy read that makes you know Amy better; and, fans should love the intimate look into her career.
Do I think it could have gone into more depth about her time with Ghost Hunters? Yes. Do I think she should have covered tales from her earlier career? Yes, but she does write quite a bit about her childhood haunted home.
And we already knew that. I think the ghostly stuff we don't know from her days before Ghost Hunters or Kindred Spirits would be ideal for her next book.
"Life With The Afterlife: 13 Truths I Learned about Ghosts" by Amy Bruni with Julie Tremaine is available now from retailers. It's published by Grand Central Publishing.
---
Note: Jake bought the book with his own money, so there's no expectation of a good review for the author or publisher.
---