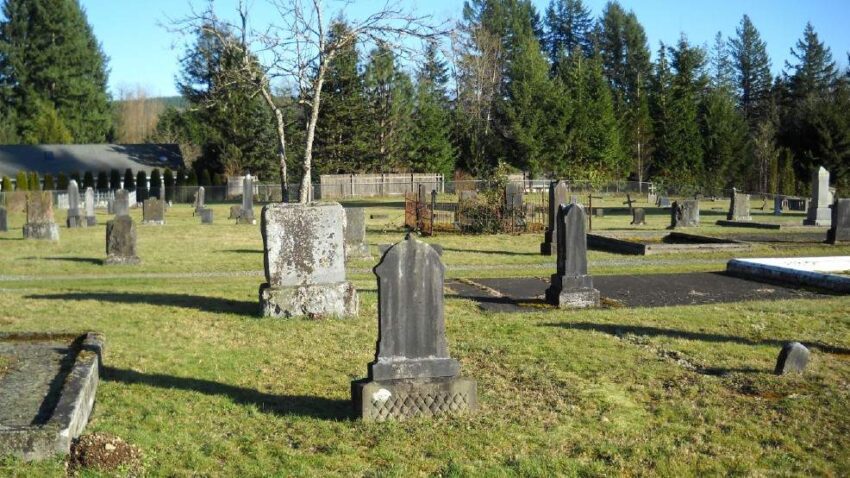 Ghost Hunt | Black Diamond, Washington
Ghost Hunt | Black Diamond, Washington
Ghostly Activities investigated two locations in Black Diamond, Washington. The first ghost hunt happened at Black Diamond Cemetery on May 19, 2018. The second investigation took place at Franklin Ghost Town on May 28, 2018. Our report follows after the jump.
Black Diamond Cemetery Investigation
Haunted Background
Black Diamond and its neighboring towns (Franklin and Ravensdale) had a total of 4 deadly mine accidents between 1894 and 1915. Two of those tragedies happened in Lawson Mine. The first incident in Lawson Mine happened in 1902. A methane explosion killed 12 miners, 9 of which were never recovered. The second disaster occurred in 1910 and killed 16 men, 5 of which were never recovered. The blast was so powerful, it sent timbers 8-ft. long and 16-in. thick a half-mile away and shook the ground like an earthquake. Within minutes of the explosion, the mine caved in and it never re-opened. All men perished instantly.
In 1915, a mine in Ravensdale had an explosion that killed 31 men. Most were buried in the Ravensdale cemetery; a few were sent back to their homes overseas; and, three were buried in Black Diamond Cemetery.
Black Diamond Cemetery is a well-known and documented haunted place in Washington. It's considered one of the ten most haunted places in the state. Ghostly Activities reported a story about this cemetery in 2017.
Environmental Conditions
Start Time: 4:30 PM PT
End Time: 6:30 PM PT
Solar X-Ray Activity: None
Geomagnetic Field: Very quiet
Moon Phase: Waning Crescent
Temperature: 71°F
Humidity: 50%
Barometric Pressure: 29.92″
Wind Speed & Direction: 6 mph NNW
Ghost Hunt Objective
Ghostly Activities set out to capture apparitions and EVP. Ghostly Activities put more emphasis on visual evidence, while guest investigators focused on both audio (June) and video (Anita) evidence.
Ghost Hunting Equipment Used
Full-Spectrum GoPro 4K Video Recorder
FLIR TG165 Thermal Imaging Camera
Bell & Howell Infrared Camera
MEL 8704R-REM with ATDD Meter
Zoom H1n Handy Audio Recorder
EM Pump
Locations
Ghostly Activities focused on three areas in Black Diamond Cemetery. Please reference the map in this section. Area A has newer graves and a higher amount of children's graves. This is where we had an experience, listed under the Findings section. Area B has Lorena Jones' headstone. This is where Ghostly Activities held a group EVP session and we used an EM pump. Area C has the Pennacchi grave, which had reports of apparitions forming.
Findings
There was noise pollution in the area. The cemetery is next to housing and dogs barked, people spoke loudly, and one house had a garage band playing classic rock. We'd have to treat any EVP as suspect.
At 5 p.m., we had an experience in Area A. Our cameras lost their power and the MEL meter spiked as high at 9.1mG. As Jake went to charge the cameras, their power returned to normal. We also conducted an EVP session, but did not capture any evidence. Our full spectrum camera, thermal imaging camera and infrared camera did not pick up any apparitions or shadows.
Next, we went had a briefing by June from AGHOST about the cemetery and its most common haunting activity. After that, we went to Lorena Jones' grave (Area B) for a group EVP session. Jake placed an EM pump next to the Jones' headstone to increase the energy in the area. We were at this spot from 5:45 p.m. until 6 p.m. Ghostly Activities is still reviewing the audio from this spot. Update on June 2, 2018: We captured this possible EVP after Sandy asked a question:
During this session, we had tagged dogs, cars, planes, motorcycles and other human phenomena. No one heard this possible EVP when it happened. It was captured on a Zoom H1n Handy Recorder. Sandy Huff was the investigator asking the question.
We ended at Area C, the Pennacchi grave. Jake placed the EM pump next to the grave and began an EVP session at 6:05 p.m. He also had the full spectrum camera recording the grave and a MEL meter set down on the grave. At 6:10 p.m., it began to sprinkle and at 6:25 p.m., Ghostly Activities called for an end to the investigation. The rain became too strong to keep the equipment exposed. The rain hitting the Zoom H1n made the audio unusable. Upon review, the full spectrum camera did not pick up any apparitions or shadows.
Franklin Ghost Town & Coal Mine Investigation
Haunted Background
Franklin had one of Washington's deadliest mine disasters. In 1894, a fire killed 37 miners. It appears the miners did not think it was dangerous and remained underground to put it out. But something happened and the thirty-seven men asphyxiated within 2-5 minutes. Witnesses stated that they couldn't tell the men had died: They looked like they were sleeping. It was a sudden death.
News reports from 1894 do not state if authorities made any arrests or interviewed any suspects.
Franklin Cemetery isn't known as a haunted hotspot. There were no reports from witnesses found online.
Environmental Conditions
Start Time: 2:45 PM PT
End Time: 4:45 PM PT
Solar X-Ray Activity: C3 (small flares)
Geomagnetic Field: G1 storm (minor)
Moon Phase: Waxing Gibbous
Temperature: 68°F
Humidity: 46%
Barometric Pressure: 30.21″
Wind Speed & Direction: 6 mph NNW
Ghost Hunting Objective
Ghostly Activities was open-ended in the search for ghostly evidence. This was for discovery. There is little information on hauntings in Franklin Ghost Town & Coal Mine. We set out to capture EVP and apparitions, without knowing much about the location.
Ghost Hunting Equipment Used
Nikon Coolpix L340 Digital Camera
Zoom H1n Handy Recorder
FLIR TG165 Imaging Camera
Bell & Howell Full-Spectrum Camcorder
Locations
Our focus was on the cemetery, about one mile from the entrance. Thorny vines from roses and berries had covered most of the cemetery. There were about 10 graves you could find along a twisting, mud path. We found two graves with men who died in the 1894 disaster. One of those graves had 3 bodies buried in it.
Findings
The cemetery isn't far from businesses and residences. There was a non-stop banging, like hammering, while we were in the cemetery. Other hikers also came by and we had to stop investigating so they could pass. The trails might be clear, but they're not wide in the cemetery. This all means any evidence collected may get debunked due to contamination.
However, Ghostly Activities did not capture any evidence of ghosts at the cemetery, mine shaft or hoists. We also did not capture any evidence in the ghost town, nor did we feel anything that would indicate a haunted site. The cemetery and town both felt at peace.