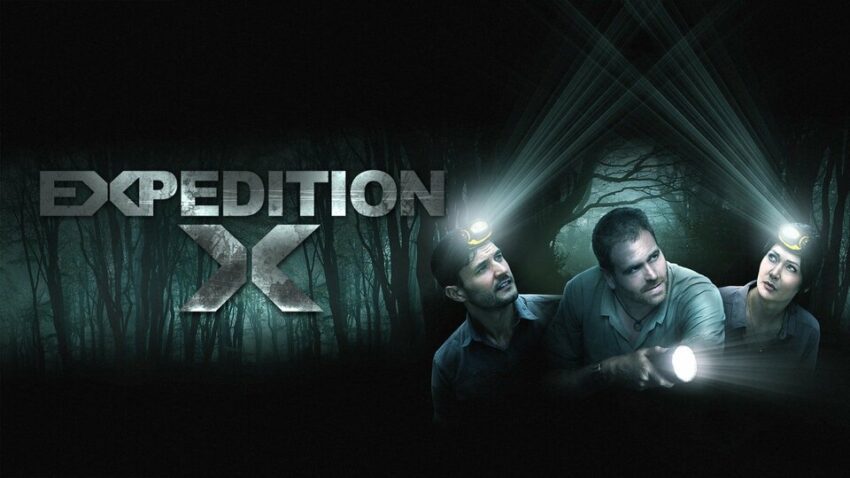 Review | Expedition X
Review | Expedition X
Expedition X stars Josh Gates, Phil Torres and Jessica Chobot. They investigate aliens, ghosts and cryptids, but in a more scientific way than other genre TV shows. It may just be the best paranormal show airing right now. Get the review after the jump.
Expedition X Series Background
Expedition X is now in its third season. It's made by Ping Pong Productions, Josh Gates' production company.
It debuted on February 12, 2020, and it's considered a spin-off of Expedition Unknown. This show focuses on paranormal topics, something that Expedition Unknown doesn't normally cover.
However, Gates did lead a paranormal team on the SyFy series, Destination Truth, That show had a heavy cryptozoology focus. Expedition X has a good mix of aliens, cryptids and ghost hunting. There have been 6 haunting episodes over the past 3 seasons. Considering each season is about 6 or 7 episodes, that's a good balance.
About The Cast
Josh Gates
Josh is a veteran in the paranormal adventure genre. He hosts the long-running series, Expedition Unknown, its mini-series (Hunt for the Yeti anyone?) and many spin-offs. He even hosts a late night show, Josh Gates Tonight. Love those cocktail recipes.
His role on Expedition X is simply to setup the investigation, check-in from time-to-time, and give a recap at the end.
You can find out more about Josh at his Discovery bio.
Phil Torres
Phil Torres is a bug biologist. He holds degrees from Cornell University in Entomology (the bug part) and Biology. He's one of two field investigators on the team. Phil is the skeptic.
Phil's appeared on many shows besides Expedition X. The big one, Sesame Street, cannot be beat by anything else.
You can learn more about Phil at his website.
Jessica Chobot
You may recognize Jessica from her days on the Nerdist News Talks Back, IGN Strategize, The Daily Fix and ABC's BattleBots.
On Expedition X, she's a true believer in the paranormal, which counters Phil's skepticism. When you need some ghost hunting know-how, Jessica provides it.
You can learn more about Jessica at her Discovery bio.
Show Structure
Every episode kicks off in Josh's office in New York City. He teases (sometimes mercilessly) the upcoming investigation to Jessica and Phil. Then, Josh reveals the case.
Jessica and Phil then head out to investigate. Along the way, they interview experts and witnesses. Most of the time, it's Phil and Jessica doing the heavy lifting to find the evidence. Josh checks in with the team in the field a couple of times per episode. That's pretty much what a lot of other shows do.
But they don't just try to gather evidence: They also try to debunk it. That means cryptid DNA gets analyzed. UFO data gets sent to scientists to find a reasonable explanation. Ghostly activities don't necessarily get the same analysis. In these cases, Phil usually tries to debunk the phenomena on-the-spot.
Jessica, a paranormal true believer, and Phil, a complete skeptic, have some tension as they have divergent beliefs on paranormal subjects. It never gets in the way of the investigations. Most of the tension arises from how to pursue evidence. They collaborate well and default to a third-party opinion or review when needed.
For UFOs and cryptids, there's a scientific reveal at the end. The haunted stuff doesn't have the same type of treatment. Josh gives an evidence recap with plausible reasons at the end.
Investigation Methods
I'll focus on the haunting episodes for this section (it's a ghost hunting blog after all).
To illustrate Expedition X's paranormal research methods, I'll use "Ghosts in the Canal" as the example. It's from Season 3 Episode 4 (S3E4).
In this episode, the team goes to Virginia and Maryland to investigate a stretch of the C&O Canal. It goes way back to the 1831. Many deaths happened along the canal. Hundreds of workers died, and it was the site of a Civil War massacre. In 1924, the canal finally shutdown. Today, it's a national park.
First, the team gathered witness reports. Most people think the ghosts are a combination of Civil War soldiers and workers. The activity tends to be apparitions, physical touch and EVPs.
Phil and Jessica then sent out to capture and debunk evidence. Jessica focused on communicating with spirits, while Phil tried to recreate phenomena to debunk it. It's very much a 'put the investigator into a creepy situation and see what happens' kinda thing.
Ghostly Experiments & Evidence
In this episode, they actually did a lot to find or debunk ghostly evidence. Here's the rundown:
Spirit box session after a canon blast
Apparition hunting while going down the Potomac River
Investigating the sound of screams from the river
Crawling through a canal section to find ghostly sounds
Another spirit box session in an abandoned lock house
Crawling through a tunnel underneath the lock house
Something pushes Jessica in the lock house basement
Something touches Phil's leg in Paw Paw Tunnel
A laser grid with alarms placed at each end of the tunnel
Thermal imaging used to find air moving in/out of the tunnel
Another spirit box session in the tunnel
A stethoscope placed on a funnel to measure sound in a tunnel shaft
A rock gets thrown
The laser grid system alert goes off
Phil tends to debunk everything he encounters, while Jessica thinks everything is a ghost. At least one person on the team tries to debunk activity. That's more than 90% of the other shows out there.
Also, most ghost hunting teams never split up. I can understand why they do it in these cases. There's only 2 people in the field. Sometimes, you go separate ways to cover more ground. I don't recommend that in real life.
Ghost Hunting Equipment Used
For a show so focused on science, the gadgetry wasn't exactly cutting edge. Jessica used night vision, laser grids with alerts, and a spirit box to detect ghosts. Phil had a thermal imaging camera and stethoscope (who brings a stethoscope to a ghost hunt?) They also used a trigger object, specifically a canon. They fired it. It was loud. The ghosts didn't like it.
In a way, I like the light touch, but I would like to see more gadgets on a ghost hunt. I'm a little surprised an SLS Kinect didn't find its way to the shoot.
Entertainment Value
Expedition X has a lot going for it. First off, it has a good sense of humor about itself. I mean, they look for ghosts, aliens and cryptids. Not exactly common stuff for the lay person.
Each episode is well paced, has plenty of dad jokes, throws in a few jump scares, and there's good chemistry between the cast. However, I thought Jessica was too much of a true believer. I'd like to see her shoot down Phil's and Josh's skepticism more often.
Expedition X also does its due diligence with history and previous research of the episode's subject. I learned a lot about the C&O Canal and its tragic past. Also, I never thought the production sensationalized those events either.
The Paw Paw Tunnel investigation had plenty of intrigue. A witness reported something shoving her in the tunnel, and the crew obscured her image. It's always fun when someone doesn't want to be identified. This tunnel is also prone to cave-ins. More tension building there. And then we got the best evidence and debunking of the show.
Gotta love it when the ghosts get active at the last stop! Leave 'em wanting more!
Should You Watch Expedition X?
For me, it's the debunking and 'put the investigator in a creepy situation and see what happens' kinda thing that sells me on the show. I love some rationality added to the supernatural. The cast is fun. The pacing brisk. And the dad jokes. Who doesn't love a groan-worthy dad joke?!
This show is actually my favorite in the genre. I don't think it insults your intelligence. It's like a reality-based X-Files. Jessica is Mulder and Phil is Scully. I just wish there were more than 7 episodes per season. Gates…you listening? More episodes, please.
Expedition X is made by Ping Pong Productions for Discovery+. New episodes drop on Thursdays.
Images sourced from Discovery Communications press materials. Copyrights belong to Discovery, Inc. and Ping Pong Productions.