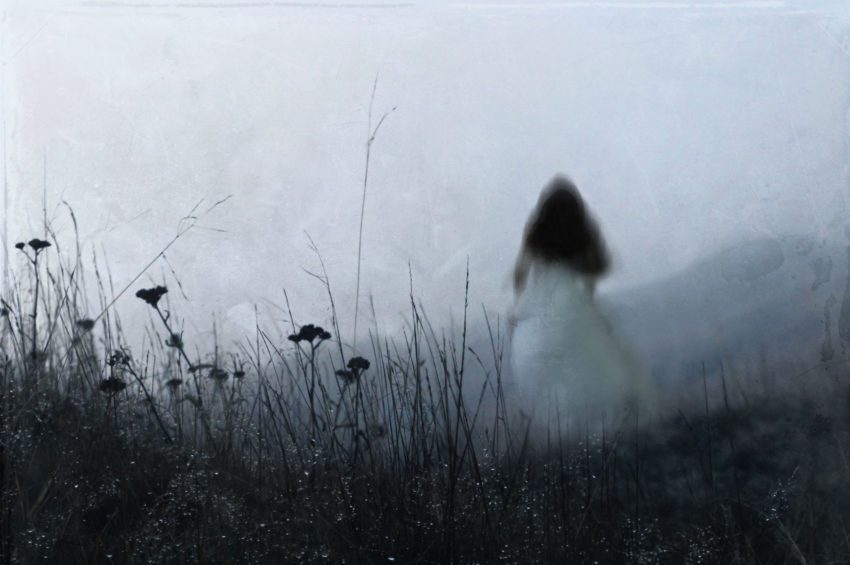 The Difference Between Intelligent And Residual Hauntings
The Difference Between Intelligent And Residual Hauntings
Use this guide to see which ghostly activity is likely to happen with intelligent and residual hauntings. Then read about the signs in detail and get some examples. Get the scoop after the jump.
Comparing Intelligent And Residual Hauntings
Intelligent hauntings are the classic type you see in movies or read about. The ghost or spirit operates like a (spectral) person. It can engage with you, notices the living, tries to talk with you, and may be a mischief maker.
A residual haunting is an echo from the past, playing out a scene from years before. These hauntings generally manifest at the same time each day or week. They can never communicate with you. In fact, they don't seem to notice you exist. Think of them as an old VCR looping the same video over-and-over again. You can watch and listen to it, but that vintage machine will never talk back.
Quick Reference Guide
| Sign | Intelligent Haunting | Residual Haunting |
| --- | --- | --- |
| Cold Spots | Yes | Yes |
| Hot Spots | No | Yes |
| Electrical Failures | Yes | No |
| Phantom Footsteps | Yes | Yes |
| Odd Knocks | Yes | Yes |
| Whispers | Yes | Yes |
| Unexplained Scents | Yes | Yes |
| Pets React | Yes | Yes |
| Heebie-jeebies | Yes | Yes |
| Apparitions | Yes | Yes |
| Moving Objects | Yes | No |
| Missing Objects | Yes | No |
| Disorientation | Yes | Yes |
| Interaction | Yes | No |
| Can You Clear Ghost? | Yes | No |
Haunting Sign Descriptions & Examples
Cold Spots
Both types of hauntings can cause cold spots or drafts. In my experience, the temperature can drop 5 degrees or more. I find intelligent hauntings generate colder temperatures in more focused areas.
Example: While investigating The Congress Plaza Hotel in Chicago, my partner, Saleen, was enveloped in a column of cold air. It was 15 degrees colder than the air around me. She captured EVPs of a little boy answering her questions around his age, who he looked for, and then he touched her.
Hot Spots
Residual hauntings can cause hot spots, especially if the haunted place had a fire in its past. That's not the case with an intelligent haunting. In my experience, hot spots tend to increase by 5 degrees in the area, or you can feel a hot sphere that's well over 15 degrees warmer than the surrounding area.
Example: In Wisconsin, I investigated an abandoned farmhouse. It had partially burned down back in the 1950s. While in the former living room, the temperature increased from 40 degrees to 46 degrees and the REM pod started alerting me to a rapid change. I also captured phantom footsteps. It was approximately 8:30 PM, so it should have cooled down.
Electrical Failures
Odd electrical flickering, power outages and drained batteries are common signs for both types of hauntings. If you find your ghost hunting gear suddenly dies, it could be a sign something is about to manifest.
Example: In my experience, drained batteries happens more often than electrical anomalies at a haunt. I've had fresh batteries die as soon as I turn on a camcorder at quite a few haunts. As soon as you leave the area, the charge returns to its prior level.
Phantom Footsteps
Another common sign of a haunting. You can hear steps, shuffling or a dragging of feet. Sometimes, it sounds more like a series of creaks moving toward you. While you can hear these steps with your own ears, I'd say it's more common to hear them on audio recorders when reviewing evidence.
Example: At the North Head Lighthouse, we captured a series of steps going down stairs while we used telegraphy to engage with ghosts. We didn't hear them at the time, but we caught them on with the camcorder microphone.
Odd Knocks
Knocks could be anything from raps to tapping. Most ghosts knock 2 or 3 times. Both residual hauntings and intelligent hauntings use knocks, however, it's intelligent hauntings that knock on command.
Example: I asked a ghost to knock once for 'Yes' and twice for 'No' during an experiment in the Seattle Underground. It knocked twice when I asked if it was an adult male. Make sure you have a camera or audio recorder to capture this exciting phenomena!
Whispers
Whispers, also called direct voice phenomena, happen quite often at haunted locations. You may even think you're going a little crazy if they happen often. It's just the spirit trying to communicate. You may not understand what's said at the time, so use an audio recorder to capture them. When you analyze it, you can adjust the gain and clean up the room noise to hear it. An intelligent haunting will answer your questions, while a residual haunting will repeat the same phrase over-and-over.
Example: At the Old Courthouse Inn in Powell River, British Columbia, a motion detector went off by an investigator. She said the ghost is back again, and we recorded it say "I'm right here," clear as a bell.
Unexplained Scents
Sometimes, you don't see or hear a ghost, but you smell it. It could be perfume or cigar smoke. The scents never seem to fit the location. I've had cases were I smell rose perfume in an abandoned house during January. No roses are blooming at that time of year.
Example: While investigating The Congress Plaza Hotel in Chicago, we always capture the smell of cigar by Room 800 in the north tower at 8 PM. This is like clockwork, so that indicates a residual haunting.
Pets React
Pets know when something weird has entered the area. They may bark, hiss, cower or run away. If that happens, get out the audio recorder, and ask some questions.
Example: In my younger ghost hunting days, I had something follow me home from an investigation at an old bank. I asked some questions to the spirit when my dog, Wally, went bonkers for no reason. When I played the tape back, I heard a sinister laugh right before Wally started barking.
Heebie-jeebies
You know this one: It's when your hair stands up on end, and you feel a shiver down your spine. It also feels like someone is watching you. The heebie-jeebies happen for residual and intelligent hauntings.
Example: My ghost hunting partner, Saleen, felt the heebie-jeebies while we investigated Bachelor's Grove Cemetery in Midlothian, Illinois. As soon as she said she felt them, I snapped a picture, and we caught an apparition.
Apparitions
An apparition is the physical manifestation of a ghost. They come appear in a few different ways. Sometimes, they look like a person in period clothes. In other cases, it could be a mist. I'll write a post about them at a later date. In my experience, you're more likely to get one with a residual haunting than an intelligent haunting. An apparition is more likely to appear in a photograph than seeing one with your own eyes.
Example: In 2014, I investigated Colorado Street Bridge (a.k.a. Suicide Bridge) in Pasadena, California. It was about 2 PM on a sunny day. In the photo, I captured a woman standing next to an area known for jumpers. No one saw her with their own eyes. She only appeared on camera.
Moving Objects
Moving objects, like coins, keys and cat balls, only happen with intelligent hauntings. I've never known a residual haunting to have enough substance to push a physical object. When an intelligent haunting does it, the ghost tends to fade at that point. Moving objects takes a toll on ghosts.
Example: I investigated a home in Bucks County, Pennsylvania. For an experiment, I put a coin on paper, drew a circle around it, then placed a glass pastry cover over it. I wanted to know if the spirit would move it, and it did move a quarter-inch. Unfortunately, the ghost never manifested again that weekend. Lesson learned. Don't exhaust the spirits.
Missing Objects
Intelligent hauntings can hide objects. You may have heard reports of keys or toys ending up in the oddest spots. That's an intelligent haunting. It seems like the ghost is a bit of a trickster. Even spirits need a little fun.
Example: My partner, Saleen, had a ghost in her home in Valparaiso, Indiana. It liked to take the keys from their spot next to the door. She'd find them in cupboards, behind the TV and all sorts of weird places. She asked them not to hide them on working days. No one wants to hunt for keys when you're running late to work. The ghost did as she asked.
Disorientation
When a ghost manifests, you may feel dizzy, nauseous or get a headache. Both hauntings can do this to investigators, but intelligent hauntings tend to make you feel this way faster and more intense. If you feel like puking, it's likely an intelligent haunting at the haunt.
Example: I suddenly got a throbbing headache while investigating the Old Charleston Jail in South Carolina. The group was in the basement where they held the mentally ill inmates. That spot is known for poltergeist activity. It felt like I got cracked in the head. As soon as we went outside, the headache went away.
Interaction
Only intelligent hauntings will interact with you. If the ghost knocks on command, directly answers EVP questions, or moves objects around when you ask, you've got an intelligent haunting. A residual haunting may act like it's interacting, but they may be coincidence. If you put out an EMF meter in a hallway, and it flickers when the ghost passes through, then it's not an interaction. The haunting was doing its usual thing. You just put a device in its way.
Example: At the Walker-Ames House in Port Gamble, Washington, I was in the attic with some interactive toys. The spot is known for a little girl spirit that likes to play with investigators. I asked which toy she liked, and a caterpillar lit up and giggled. Now, that's an interaction!
Can You Clear The Ghost?
This topic has become controversial. Is it ethical to force a ghost to leave its haunt? I wouldn't clear a ghost unless it kept hurting someone. It might lash out because nobody listens to it, or the living are disrespectful.
Now, to answer the question …
Yes, you can clear an intelligent haunting in the short term. It may be more like negating its energy. In my experience, intelligent hauntings will come back if and when they want to. As for a residual haunting, no, you can't. These hauntings may fade in time as their energy weakens. I don't know how long that would be. It depends on the energy stored in the area.
Tips For The Cozy Ghost Hunter
Intelligent hauntings are the ghosts a cozy ghost hunter loves. You can use your research to ask it questions and hopefully get enough information to identify the ghost and solve the mystery. Not every ghost can reply with EVPs or manifest as an apparition. You want to use a combination of evidence soliciting techniques. You may use a Boo Buddy to bring out a shy child spirit. Try out a Flux2 to get 'Yes/No' questions. Always have the audio recorder and camcorder rolling. You never know how, when or where that ghost will manifest.
You won't get nearly as much direct evidence from a residual haunting, but you can still gather clues. Make note of the day of the week, time of day, how the haunting happens, the haunting sigbs and methodically review the environment. Take the ghostly details and try to cross-reference your suspected ghosts. You could have more evidence than you thought.
Sources:
C. Davison and H. Mendelsohn, "5 Signs Your House Might Be Haunted," HouseBeautiful.com, Oct. 5, 2021, https://www.housebeautiful.com/lifestyle/a23614591/haunted-house-signs/
L. Stardust, "10 Signs Your House Is Haunted (And What To Do About It)," TeenVogue.com, Sept. 27, 2022, https://www.teenvogue.com/story/10-signs-your-home-may-be-haunted
T. Markarian, "7 Signs Your House Could Be Haunted, According to Paranormal Experts," rd.com (Reader's Digest), Feb. 17, 2022, https://www.rd.com/list/haunted-house-signs/
Z. Bagans, "10 Signs Your House Is Haunted," Dummies.com, Nov. 21, 2019, https://www.dummies.com/article/body-mind-spirit/religion-spirituality/the-paranormal/10-signs-your-house-is-haunted-266026/
J. Rice, "Signs Your House Is Haunted & What To Do About It," Ghostly Activities Podcast, July 17, 2022, https://ghostlyactivities.podbean.com/e/signs-your-house-is-haunted-what-to-do-about-it/