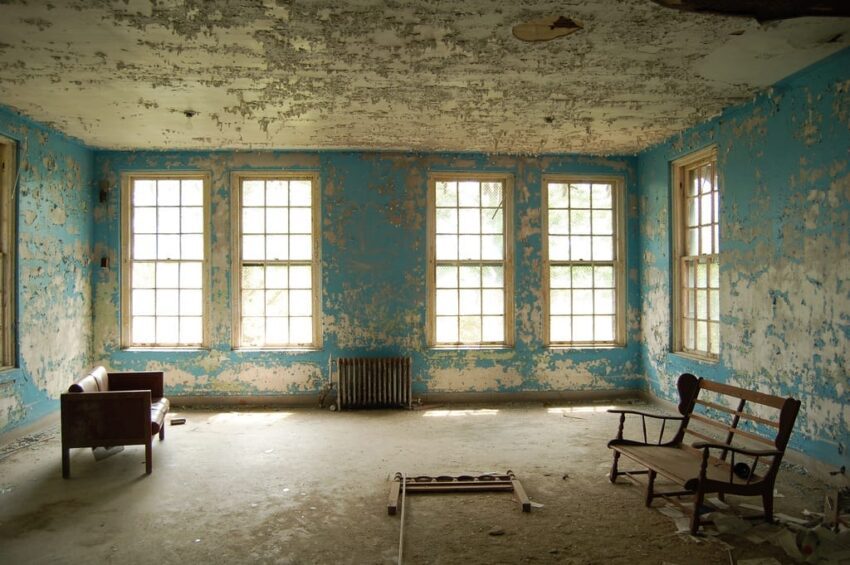 Athens Lunatic Asylum Hauntings
Athens Lunatic Asylum Hauntings
Athens Lunatic Asylum opened in 1874 and closed in 1993. It helped rehabilitate Civil War veterans, mentally handicapped patients, the violently insane and TB patients. The doctors treated many patients with lobotomies, electroshock therapy, hydrotherapy and psychotropic drugs — all treatments considered torture now.
That makes it obvious why Athens Lunatic Asylum is considered one of the ten most haunted places in the USA.
Ghost Hunting at Athens Lunatic Asylum
It's tough to investigate here. Ohio University doesn't allow investigators to get access to the former asylum buildings. If you want to get inside, then take the tour offered by the Athens County Historical Society and Museum. The tour guide, George Eberts, is a major skeptic, so expect him to debunk most haunting stories and theories.
In the past, the university has offered tours around Halloween. These have been sporadic over the past 15 years, so check with the university's events calendar.
If you still want to investigate on site, then go to the cemeteries. The State of Ohio's Mental Health Department still owns them. You don't need special permission to run an investigation during the day. You might need it at night.
Use this map to navigate The Ridges main buildings:
To go to the cemeteries, use this map:
Confirmed Ghosts at Athens Lunatic Asylum
The most famous ghost is that of Margaret Schilling. Margaret went missing in December 1978 while playing a game of hide and seek with a nurse. A maintenance worker found her body in an abandoned wing of the asylum in mid-January 1979. The coroner reported she died of heart failure, but she probably died from the cold. Her decomposing body left a human stain on the cement floors. Repeated cleanings never got it out and it remains there today. Witnesses say they've seen her apparition through windows in the top floor of Ward N20.
Athens Lunatic Asylum has a lot of mystique due to its inaccessibility to ghost hunters. However, not much evidence has surfaced online. Most reports state shadowy figures and disembodied voices are the most common evidence collected. That's about it.
Personally, I'd say to go on vigil in the cemeteries and, if I could get inside, I'd set up a laser grid to capture anomalies and conduct EVP in the Kennedy Art Museum.
If you go to the cemeteries, I'd recommend the following equipment:
Full spectrum video camera
Infrared digital camera
Digital voice recorder
ITC communication device (either Spirit Box or Ovilus)
We don't recommend ITC devices in most cases, but, this could be a chance to hear multiple spirits trying to communicate in real-time. We don't have any concrete reasons to know this – it's just a hunch.
Athens Lunatic Asylum Today
Ohio University bought the property from The State of Ohio in the 1990s. Over the next decade, the university renovated most buildings and renamed the asylum grounds. It goes by The Ridges, and it serves as classrooms, school office buildings and a museum. Only one building remains in its decaying state, Cottage M.
Cottage M, built in 1907, sits in the middle of a vibrant and bustling campus. It's off-limits to students and staff because asbestos lines its walls. We'll see if Ohio University demolishes it like Cottage B, the former TB ward. The university thought there was too much risk to leave it standing and knocked it down in 2013.
The asylum's main administration building became Lin Hall – Kennedy Art Museum. It holds a variety of works by well-known American artists. You can view artifacts from the old asylum and read about its history.
Research Sources:
Forgotten Ohio: http://www.forgottenoh.com/Ridges/ridgeshaunts.html. Retrieved Nov. 7th, 2015.
Wikipedia.org: https://en.wikipedia.org/wiki/Athens_Lunatic_Asylum#The_cemeteries_at_the_Ridges. Retrieved Nov. 7th, 2015.
Haunted Athens Ohio: http://hauntedathensohio.com/the-ridges-mental-health-institution/. Retrieved Nov. 6th, 2015.
Parkersburg News and Sentinel: http://www.newsandsentinel.com/page/content.detail/id/579002/The-Ridges-site–of-many-sightings.html. Retrieved Nov. 6th, 2015.
Road Trippers: https://roadtrippers.com/stories/ohios-most-haunted-insane-asylum-has-a-permanent-corpse-shadow?lat=40.80972&lng=-96.67528&z=5. Retrieved Nov. 7th, 2015.
Weird US: http://www.weirdus.com/states/ohio/abandoned/ridges_asylum/. Retrieved Nov. 6th, 2015.
Athens County Historical Society and Museum: http://www.weirdus.com/states/ohio/abandoned/ridges_asylum/. Retrieved Nov. 6th, 2015.