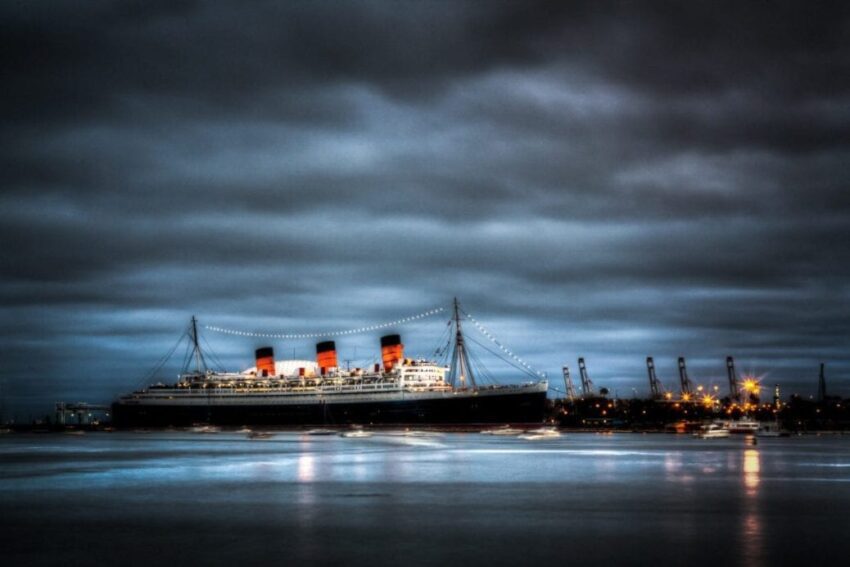 Ghost Hunt | Queen Mary in Long Beach, CA
Ghost Hunt | Queen Mary in Long Beach, CA
The Ghostly Activities Duo investigated the RMS Queen Mary in Long Beach, California on Sunday, August 31st. We had access to 5 haunted areas, deep inside the ship. This is what we found.
Background Information before Queen Mary Ghost Hunt
We actually signed up to take the paranormal investigation tour. This is how you get a real investigator to take you to the most haunted areas. Otherwise, you get a tour guide that tells you stories about the Queen Mary's ghosts.
Before we started, we had the chance to interview a security guard, Jay, who's worked there for a few years. He said he's witnessed the following ghostly activities:
On B deck, there's a room that has been sealed because a ghost keeps trashing it. Management stripped it bare, but you can still hear something happening in it.

In the chapel, you can never keep the doors locked. As soon as you lock them, they open again.

You can hear footsteps by Hatch 13 in the engine room, even though you're the only person in it.

If you stand next to the door by the children's playroom, you can hear the kids still playing.
At 10 PM, Matt Schulz, our guide for the evening, gathered the group to begin the investigation. He's well-versed in the Queen Mary's history, ghosts and paranormal hot spots. He even took us for a bonus investigation at the end of the tour. In all, there were 16 people in the group, so we were concerned about false positives for EVP and shadows. We do recommend Matt for your next investigation on the ship, but not with such a large group. This isn't Matt's fault: He doesn't sell the tickets to the event.
The five most haunted areas include:
Overall, the investigation took a little over 4 hours to complete. We began at 10 PM and ended at 2 AM.
Environmental Conditions:
Date: August 31, 2014 – September 1, 2014
Start Time: 10 PM PT
End Time: 2 AM PT
Solar X-Ray Activity: None
Geomagnetic Field: Calm
Moon Phase: Waxing Crescent
Temperature: 75(f) – 78(f) indoor
Humidity: 86%
Barometric Pressure: 29.83″
Wind Speed & Direction: not applicable
Equipment Used:
Nikon Coolpix Digital Camera
Infrared digital camera
K2 EMF Meter
MEL Meter (8407-R)
Digital Voice Recorder
Dowsing rods
Note: The guide used EM pods and a DC current detector, but Ghostly Activities did not use them.
Engine Room Investigation
After an introductory speech, we took the stairs down from the museum to the engine room. Matt handed out some ghost hunting equipment to the group and he called a volunteer to use dowsing rods. A volunteer then asked to communicate with John Petter, a sailor crushed by Hatch 13 during a fire drill in the 1960s. Matt placed an EM pod out to help John manifest. The rods did move when the volunteer asked John to move them.
Next, we went to a gangway, surrounded by Queen Mary's massive engines. We listened to more information about John Petter and his death. We were free to walk around the engine room and run some tests. Ghostly Activities ran an EVP session and used the dowsing rods. We had an associate member take infrared photos at this time as well.
Saleen used the dowsing rods and asked questions. She did get the dowsing rods to move when asked, but we debunked the phenomena. Dowsing rods are susceptible to involuntary hand movements. Jake measured EMF (0.2mG) and temperature (77 degrees) of the area and both remained stable.
We did not see any apparitions or shadows in our pictures.
After that, Matt called us back to the gangway and he ran a group EVP session. During the session, Saleen said she saw a shadow person on a walkway above us. Then, the DC detector went off. Afterwards, Matt played back EVP evidence from earlier investigations. One standout EVP was John's ghostly voice saying, "Get out!"
Boiler Room Investigation
We left the engine room for the boiler room. There are 2 boilers rooms, the first has been refurbished and looks like a banquet room; the second one is a massive, hollowed-out shell.
We didn't spend much time in the refurbished boiler room.
The untouched boiler room had ceilings that soared more than 80-ft. above. Its insides had rusted with low lighting and emergency lights that cast deep shadows and created an unearthly atmosphere. In the middle lay a stage used by Disney to show movies and host corporate events for its staff.
Matt gave us the background of the boiler rooms and he played some EVPs for us. The examples included a woman saying goodbye and wailing. He also told us shadow people haunted the side tunnels: You may see them if you watch the walkways above us.
He then walked down creaking, wooden stairs behind the stage and turned on a display. It looked like the Microsoft Kinect sensors used in the Paranormal Activity movies. Green and red lasers dotted the rusted walls of the cavernous boiler room. Matt gave us an example of what to look for if a ghost passed by them. The lights would bubble out.
We went on vigil to capture any changes to the laser field and ran EVP. Our associate member took infrared photos of the area, too. We still need to check the audio data, but we saw nothing in the boiler room.
Green Room Investigation
The boiler room connects to the Green Room, named after the waiting area for guests for TV shows. We walked down a wooden bridge that cut through the boiler room and its laser display. It's a very small room and the 10 people had to huddle next to each other to fit. It would be pitch dark in the room if we didn't have a flashlight on. That, and the eerie moaning of the ship, made it a very spooky area.
Inside the room, Matt had it set up for ITC. There were about 8-10 headsets on a table with a digital recorder mounted on it. He quickly told us about the Green Room and its ghosts. The room is notorious for its EVPs. Witnesses have also seen a ghost looking down through a hole in the ceiling. You may also see something on a walkway above the room.
Matt began the ITC session by asking for the ghosts to talk to us. He had a 9-second delay in the ITC equipment, so we could hear his questions and any ghostly responses. Unfortunately, we didn't hear anything.
Swimming Pool Investigation
We left the Green Room and moved to the first-class swimming pool a few decks above it. As we entered the room, the pale blue tile and soft lights let the art deco design create a peaceful ambiance.
Matt had us gather around the edges of the pool area. We centered on stairs that connected two levels, one for swimming and another for lounging.
He told us about Jackie, a 7-year-old girl spirit, a ghost cat and an adult female ghost. Jackie is the most playful and active spirit. She's been known to tug your hand and she's felt as a gust of wind when she runs by you. Jackie also leaves Class A EVPs. The cat is relatively shy, but it has been captured meowing. He seems to be more active in the women's changing room. Matt didn't say much about the adult woman ghost, but he did play some EVP evidence of her voice.
We didn't capture any visual and EMF evidence in the swimming pool, but we still need to review the audio data.
After that we went in the changing room. This is where the ghost portal opens. It didn't open for us, but we did conduct an EVP session. Matt had us place our recorders on the floor and he conducted an EVP session. He asked Jackie and the cat to walk down the hall and play. It was a group session, so we asked some of our own questions as well. Again, we didn't collect any EMF or visual evidence. We'll post the audio evidence if we get any.
Ship's Bow Investigation
This was a surprise to us. Matt invited us to the bow of the ship for a spirit box session. The spot is on B Deck at the very front of the ship. He explained this is the point where the Queen Mary hit and sank the Curacoa (pronounced 'cure-ah-SO-ah').
During World War II, the Queen Mary became a troop transport. It's orders were to never stop for any reason. The German navy wanted to sink the Queen Mary, then called the Grey Ghost, so it could never stop. During one foggy night near Ireland, it collided with the British destroyer and ripped it in half. Over 300 men drowned while the Queen Mary sailed on to safe shores.
Allegedly, you can hear the screams of the drowning sailors at this point. Matt began an ITC session using a spirit box. We spent about 20 minutes trying to communicate with the spirits, but nothing happened. We did record this part of the ghost hunt, which we still need to check. We did not capture any visual or EMF evidence.
Queen Mary Ghost Hunt Conclusion
We still believe the Queen Mary is haunted. There's just too much recorded evidence to discount it. Ghostly Activities did not capture any evidence with EMF, infrared pictures or temperature readings. We'd like to go back and run another investigation. This is just one night and ghosts don't always respond when you want them to.