The Dead Bell Ghost Hunting Equipment Review
The Dead Bell Ghost Hunting Equipment Review
Ghostly Activities recently purchased the Dead Bell, a new ghost hunting gadget from Ghost Stop. It's a 'natural' EM detector that rings a bell when ghosts engage with it. This device worked too well: I'll explain that in the review after the jump.
The Dead Bell Product Background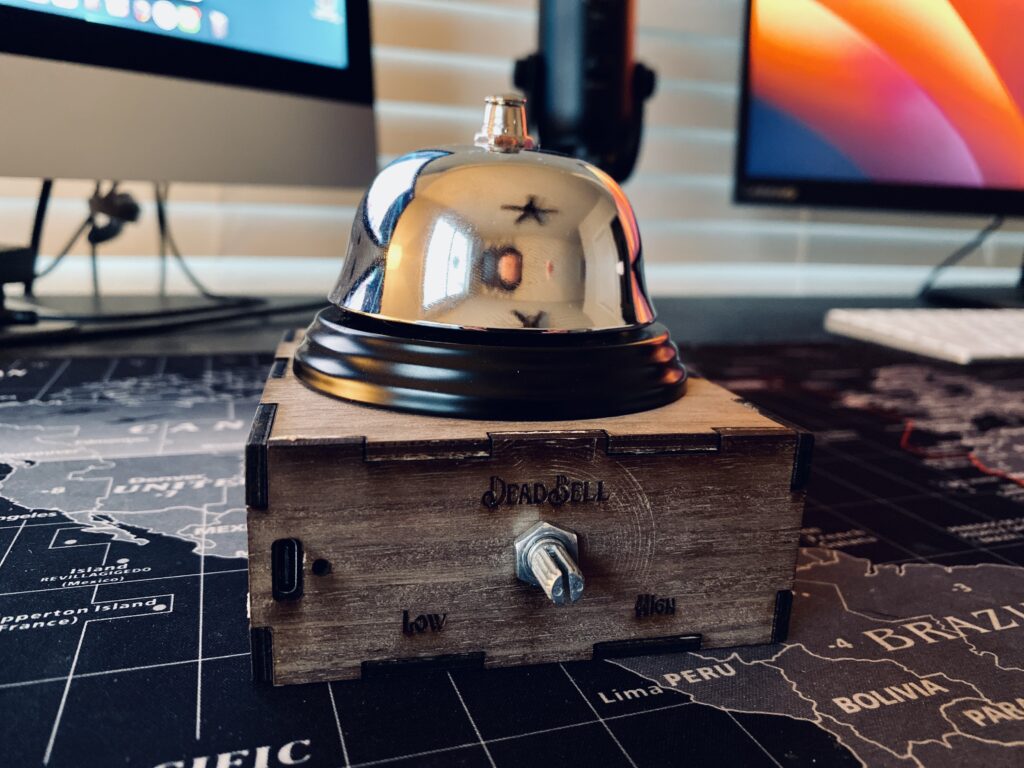 In early November, I received an email from GhostStop announcing its new product, the Dead Bell. As a haunted hotel lover, I jumped at the chance to get it. It was on sale for $30 off, and I used $30 worth of Boo Bucks to lower the price even more. This was really exciting because I'll go to a haunted hotel and investigate it in December. The Dead Bell is perfect for that haunt … at least, it was perfect on paper. More on that in a minute.
Anyway, the product is compact, lightweight, and gorgeous to look at. GhostStop definitely used a real bell for the product. The wood encasing has these fun ghost etchings on the side, and it's easy to use. All you have to do is switch it on and move the knob to a suitable sensitivity setting.
In a nutshell, GhostStop says the Dead Bell measures natural magnetic spikes from office spaces to abandoned buildings. It can filter out phones (more on that later, too) and walkie talkies. Here's the tech spec from their website:

Reading this makes me think it would operate like a Natural TriField Meter, which is one of my favorite ghost hunting gadgets. Note: The link opens a PDF with all the Natural TriField Meter details.
However, that doesn't seem to be the case.
Ghostly Activities Product Review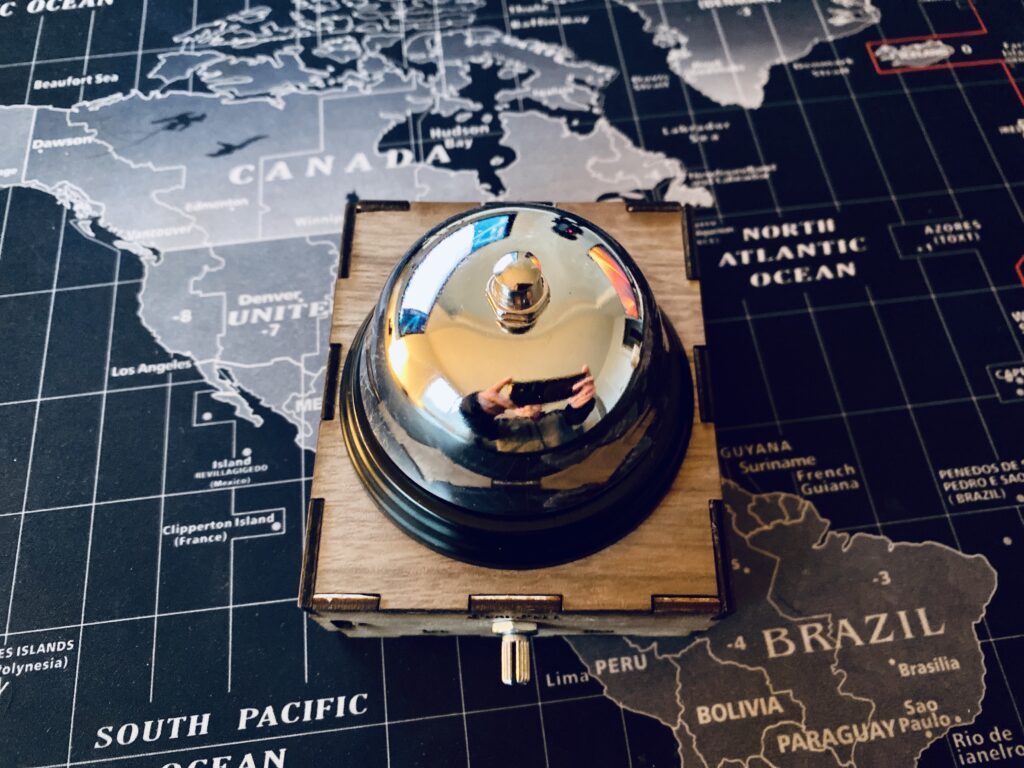 Well, my excitement got crushed. I think I got a defective bell. This thing started ringing non-stop, and then the hammer got lodged. You can read more about the tests and watch the videos I made. I'm bummed. This seems like the perfect gadget for the ghost hunts I go on.
Sensitivity Tests & Customer Service Outreach
Interior Test
Now, this is where the product's defects stood out. The first video shows the Dead Bell in front of my Mac. I like to use this spot for all EM detectors because my Mac outputs a solid 15mG about 1 foot from its base. A good consistent reading for testing.
My voice describing the bell's problems is a bit hard to hear, but here are the defects I encountered:
The hammer got stuck and I had to nudge it to work
It kept ringing when a natural EM detector should ignore the alternating current/magnetic force from my Mac, microphone and second display
Changing the settings from low-to-high sensitivity didn't do anything the change the ringing cadence
Exterior Test
Ok, so maybe it uses all electromagnetic energy, so I took it outside to my backfield, which has no electronics whatsoever for at least 100-feet around the post I set it on. Here's the video of that test:
Again, it had the same problems with the ringer getting stuck, and it rang non-stop after I dislodged it. I mean, if it's just going to ring the same at all sensitivity levels, why bother with it. Everything is a ghost!
A Note About My Phone: I stood about 5 feet away from the bell for these videos, so you could speculate that it's my phone setting off the bell non-stop, but I also turned off my phone. The bell kept ringing. It rang with the same cadence from low-to-high sensitivity. Don't forget: The tech spec said the gadget filters out phones and walkie talkies.
Customer Service Outreach
I sent an email to customer support (info@ghoststop.com) asking for a fix. Ghost Stop did return my email quickly, but couldn't provide a fix, and they didn't ask me to return it for a replacement. So, it seems like I'm out the cash, shipping and tax. Here's an image of my emails to them: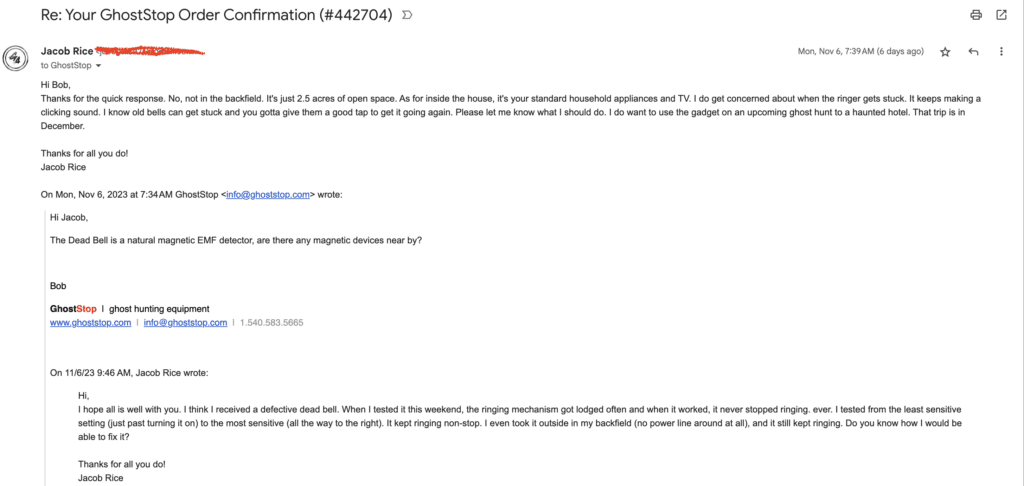 Recommendation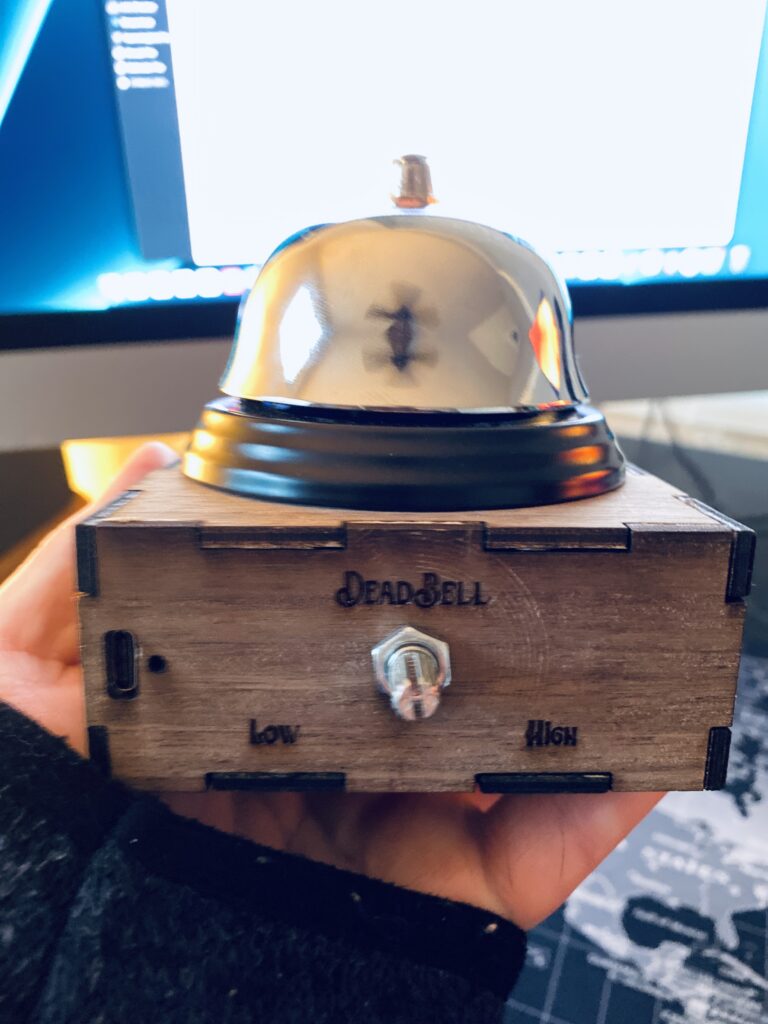 Well, it's obvious I bought a defective gadget and customer support didn't help much. As it stands now, save your $200. No ghost hunting equipment is worth purchasing with these defects. I'd just buy a regular bell for ghosts to ring.
The Dead Bell is sold by GhostStop, a leading manufacturer of ghost-hunting equipment. Its gadgets have been seen on Kindred Spirits, Ghost Hunters, and Ghost Adventures.
Note: Jake bought the Dead Bell with his own money, so there's no expectation of a good review for the manufacturer.