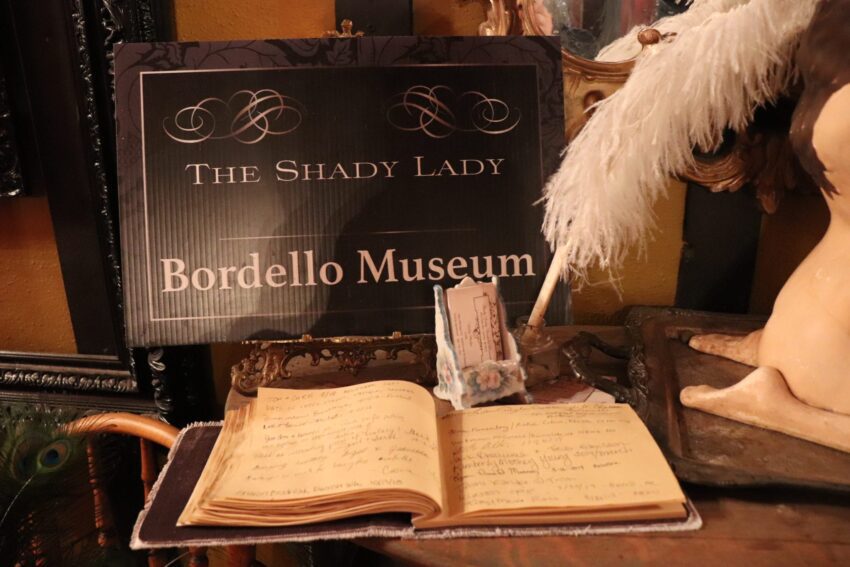 Ghost Hunt | The Shady Lady Bordello Museum
Ghost Hunt | The Shady Lady Bordello Museum
On August 24, 2019, Ghostly Activities investigated the Bordello Museum at The Shady Lady in Centralia, Washington. Get the report after the jump.
Bordello Museum Background
Guest investigators had investigated The Shady Lady and its museum in June 2019. There were EVPs captured in the bordello rooms area, which is on the 2nd floor and facing Tower Avenue.
The bordello was active until the 1960s. It doesn't hurt that the madame was married to the police chief, eh?
Investigation Details
On the night we investigated, there was an antique car show, trains and many people on the streets. It caused noise pollution on audio recordings. For example, Jake's Sennheiser MKE600 microphone could pick up people in O'Blarney's pub across the street.
For this investigation, the guest investigators included June and Tammy.
Areas-Of-Focus & Gear
We had full access to the museum and targeted 5 areas for the investigation. It's a big area, so our strategy was to hit hot spots and monitor the area with gadgets that had alerts.
The areas-of-focus included:
Parlor in the back
Main hallway
Main entrance
Chapel
Bordello rooms
Gear used:
Canon XA11 camcorder
Canon Rebel T7i camera
REM pod
3 MEL 8704-R-REM-ATDD meters
K2 EMF meter
10 digital audio recorders
3 full-spectrum camcorders
Footstep tracker
Laser grid
FLIR thermal imaging camera
In general, we'd split into 2 teams and spend 45 minutes in the parlor, chapel and bordello rooms. Jake and Sandy focused more on engagement sessions with video, while June and Tammy focused on EVP. After time elapsed, we'd meet and discuss what we found and if we should change tactics.
In rooms 1 and 2, we placed REM pods or MEL 8704-R-REM-ATDD meters to alert us of EMF changes. The bordello rooms had been very active the last time AGHOST visited. We made them a big focus for this follow-up.
Parlor
June and Tammy started in this room with an EVP session. Tammy also set up infrared cameras to capture the area. They're still reviewing their recordings at this time.
Jake and Sandy followed them. We used digital audio recorders for EVP collection, a MEL 8704-R-REM-ATDD for environmental changes, and a Canon XA11 to capture apparitions. Upon review, Jake and Sandy did not capture any evidence in the parlor. We did not have any personal experiences, either.
Main Hallway
This area was passively monitored. June placed an infrared camera to capture the hallway, and Jake put a footstep tracker to detect vibration. Unfortunately, many trains and street traffic set off the tracker often. Jake decided to throw out anything collected by it, due to vibration pollution. June still reviews the video collected here.
Main Entrance
Jake placed a laser grid and full-spectrum camcorder on this area. He moved the camcorder into bordello room 2 to record promising activity halfway through the night. Upon review, the camcorder did not detect any ghostly manifestations at the entrance.
Chapel
The entire team ran EVP sessions in the chapel for 40 minutes, while Jake used the Canon XA11 (infrared setting) to monitor and capture shadows or apparitions. Jake did not pick up any EVPs or apparitions with the camera. EVP review is pending at the time of this writing.
Bordello Rooms & Hallway
In room 1, we placed a digital audio recorder and MEL 8704-R-REM-ATDD. The MEL went off near the end of the investigation. Jake checked it, and its alert went wonky as the battery died (natural cause, not paranormal). EVP analysis is still pending.
As for rooms 2 and 3, Jake placed a REM pod to monitor room 2 while the team was investigating other areas. Sandy began the evening with an EVP session in room 3. After 20 minutes, Jake began an engagement session and had personal experience (seen in video). He felt coolness on his arm, an odd rush of wind, and felt something breathing on his right side. There were also phantom footsteps and floors creaking. At that point, the REM pod triggered and Jake went to investigate, but it stopped.
Throughout the evening, the REM pod began to trigger more often until it wouldn't stop alerting us. Jake checked the device and semi-transparent fibers got stuck to the top of the device. As the fibers wiggled, the alert would trigger. Jake cleaned it off and re-set the pod. The alerts stopped for the remainder of the evening. This engagement is now debunked.
Later in the evening, the group conducted an EVP session in the hallway between the bordello rooms. Jake monitored video and Tammy used the K2 meter to check for responses. June led most of the EVP session and played the role of a madame. We would get EMF flares when she mentioned improving conditions for the girls and referenced gentlemen callers. Additionally, we would hear footsteps and knocks or drafts. Jake opened a door in room 4 (the taxidermy room) and saw the HVAC systems, both old and new. It could reasonably cause some of the sounds we heard. The EVP analysis continues at this time.
EVP Gallery
This series of EVPs provided by guest investigators TammyLynn Ivy GeLinas, Melissa Mertens, and June Nixon.
Environmental Conditions
Date: August 24, 2019
Start Time: 7 PM PT
End Time: Midnight PT
Solar X-Ray Activity: Quiet & Stable
Geomagnetic Field: S1 (minor)
Moon Phase: Last Quarter
Temperature: 77°F – 81°F (indoor)
Humidity: 78%
Barometric Pressure: 30.06″
Wind Speed & Direction: Indoor
Ghost Hunt Conclusion
UPDATE: No further evidence found at this location.
There is no conclusion at this time. Check back because Jake will update this post as more evidence comes in.