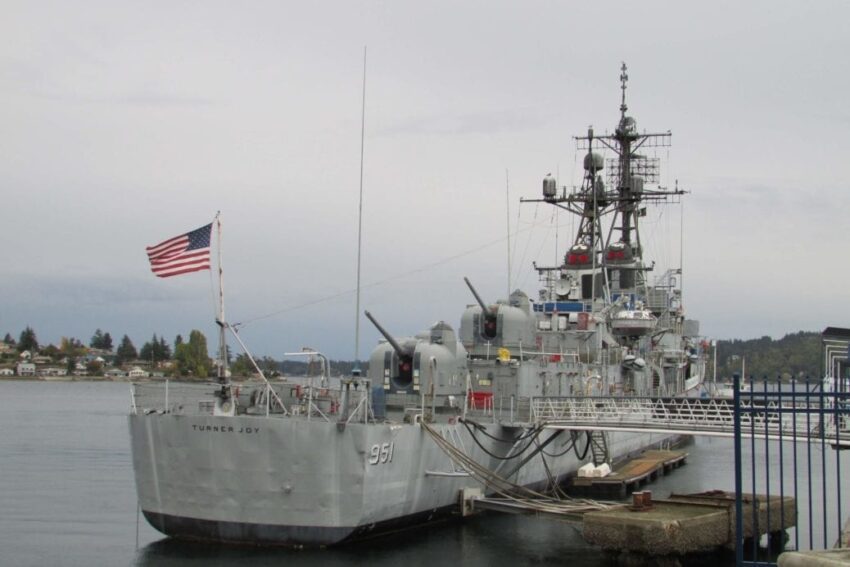 Ghost Hunt | USS Turner Joy in Bremerton, Washington
Ghost Hunt | USS Turner Joy in Bremerton, Washington
On March 3, 2018, Ghostly Activities investigated the USS Turner Joy, a naval ship museum, in Bremerton, Washington. We investigated four haunted hotspots on board. Our report follows.
---
Spooked In Seattle no longer offers haunted tours on the USS Turner Joy
---
Pre-Investigation Notes
We booked this investigation as part of a Spooked in Seattle/AGHOST offering. They put on a good experience, and we've booked with them in the past. Specifically, it was our ghost hunt at the University Heights Center in Seattle.
Our preliminary research, mainly online, didn't reveal much evidence for the USS Turner Joy. We read that Class A EVPs were the most common phenomena captured. No one stated anything about apparitions.
The USS Turner Joy doesn't have many tragedies or deaths in its history–a key haunting signal. One gun mount, #53, had an explosion that killed a few sailors, but that was about it. While the ship saw combat during the Vietnam War, it didn't receive damage from conflict. But, ships are notorious for collecting ghosts from their former crew. Somehow, these spirits come back.
So, we were hoping there would be some ghostly action tonight, even without many key haunting indicators. Here's a rundown of the conditions for the hunt:
Environmental Conditions:
Start Time: 9 PM PT
End Time: 11 PM PT
Solar X-Ray Activity: None
Geomagnetic Field: Calm
Moon Phase: Waning Gibbous
Temperature: 45°F to 51°F (indoor) || 35°F to 39°F (outdoor)
Humidity: 80%
Barometric Pressure: 29.99″
Wind Speed & Direction: not applicable indoors and calm outside by Gun Mount 53
Ghost Hunting Objective
While EVPs seem most common, we set out to find apparitions or shadow people to complement the ship's EVP consistency. There isn't much to suggest that would happen, but we gave it a try. Of course, we came with audio recorders because we'll take a Class A EVP any time we can get one.
Ghost Hunting Equipment
Based on our goal, we selected equipment most likely to find apparitions and shadow people. It included:
Bell & Howell Full-Spectrum HD Camcorder with a full-spectrum light rig
FLIR TG165
Bell & Howell Infrared Camera
Mel-8704R-REM with ATDD
Zoom H4n Pro
EDI+
Red laser grid
Haunted Hotspots & Details
Cooler Compartment Investigation
We started the night in the coolers, where the chefs kept food for the crew. Earlier, AGHOST played some EVPs about two chefs fighting in this area. They also told us about shadow people manifesting here.
We placed a REM pod and EDI+ in opposite corners of the room to detect anything that may manifest around the edges. Team member Sandy Huff had the Mel meter with ATDD and a laser grid pointed into the coolers. Another member, David Hoffman, had the full-spectrum camcorder positioned in a corner to record most of the area. Glenn Huff, an associate, monitored the REM pod and EDI+. An EVP session began as soon as we placed the tech.
Unfortunately, we didn't capture anything on the equipment, but Sandy had a personal experience in this spot. She said something may have grabbed her leg.
Crew Space Under State Room and Ward Room Lounge
This spot was known for a ghostly sailor that appears in a mirror. AGHOST told us this ghost scared two cleaning people so much, they ran from the ship as fast as they could. Not many investigators have reported their own encounters with this ghost. But, our goal was to capture apparitions, so we made it a focus of our investigation. Sandy took the lead and conducted an EVP session near the mirror while snapping infrared pics to see if the ghost would manifest in it. The three other team members set up REM pods, EDI+, and the Mel meter in different parts of the bunks. We also used the FLIR thermal imaging camera to scan the area, if we got a hit on one of the devices.
The REM pod flared first. It started going bonkers halfway through our EVP session. It didn't pick up any strong EMF, but it did detect rapidly changing temperatures. At this point, Jake used the FLIR thermal imaging camera to see if it would capture an apparition. Over the course of two minutes, the temperature shifted, up and down, by 5°F, from 46°F to 51°F. We also captured an EMF spike from 0.0mG to 1.8mG. Our cameras also had glitches: Both would turn off a couple of times during our session. The devices still had full battery charges: They just shut off on their own.
In two other areas around the mirror, we placed a Mel Meter with ATDD and an EDI+ to record any changes in EMF and temperature, like the REM pod. These devices didn't record anything during the investigation. Our Zoom audio recorder did not collect any EVPs here.
Gun Mount 53 Investigation
In 1965, three sailors died (two instantly and the third passed away a few days later) when an artillery shell got caught in the gun. No one has captured any evidence that these sailors haunt this gun mount, but we tried. Two team members entered the gun mount and ran an EVP session. We thought it may have a residual haunting of the explosion. While we did collect random EMF spikes (up to 8.7mG), we didn't get any EVP or photographic evidence. We could not debunk the EMF spikes.
Crew Space Under Gun Mount 52 Investigation
Our last stop for the evening was a crew space in the rear of the ship. We set it up in a similar way to the coolers, using a laser grid to detect shadow people, a Mel meter on a table with the Zoom positioned to capture our questions, the EDI+ on a bunk behind us, and the REM pod a few rows over from us.
Shortly after we started the EVP session, the Mel meter recorded some random EMF spikes (up to 3.2mG), which lasted a few seconds. But, the spikes happened often. The REM pod also detected rapidly changing temperatures and a modest EMF spike. We had to debunk the temperature changes because we were near a main door, and it was chilly outside. Any time the door opened, a cold wind would come through the area.
Our equipment did not pick up any EVPs, and we could not debunk the EMF spikes.
Ghost Hunt Conclusion
We got some promising readings in the first crew space with the mirror, but not much else to go on. Other investigators have picked Class A EVPs, and they had personal experiences during their investigations. Do we think it's haunted? Probably, based on the evidence played by AGHOST, but we'd like to do a few more investigations before we conclusively say it is.
Feature Image:Wikimedia Commons by Chris Light (Oct. 7, 2016). All other pictures by Ghostly Activities.