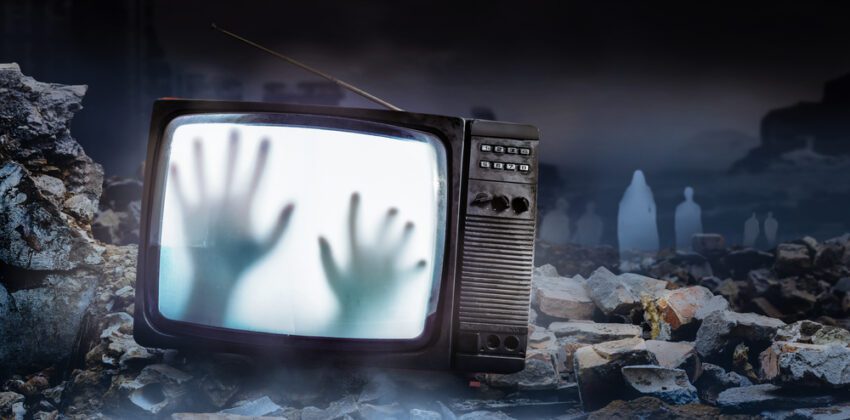 Ghostly Activities Answers HiggyPop's Paranormal TV Show Survey
Ghostly Activities Answers HiggyPop's Paranormal TV Show Survey
British paranormal news site, HiggyPop.com, asked readers to respond to a dozen or so questions about paranormal reality TV shows. Read my responses (or don't if you're a demonologist) after the jump.
The HiggyPop Paranormal TV Survey
On September 8, 2023, HiggyPop.com, a leading paranormal site, dropped a survey to gather your thoughts on the current state of paranormal reality TV shows. I'm glad they did because I have thoughts and opinions on the matter. As a paranormal reality TV show addict, I hope all of our comments/suggestions/responses find their way to the producers at the networks (streaming and cable …. I'm looking at you, Discovery+).
Anyway, you can take the survey right here: https://www.higgypop.com/news/paranormal-television-survey/
Ghostly Activities' Responses
What attracts you most to a paranormal TV show?
There's a lot that attracts me like the locations, the evidence, the gadgets, the (dark) history and more. The one thing that doesn't interest me is usually the hosts, cast and/or investigators. I think this goes along with my pet peeves about the shows, the overhyped reactions.
Overall, my attactions are mainly the location (or haunt as I like to call them) and the dark history. I guess you could include urban legends and lore as part of its dark history.
Do you believe that paranormal reality TV shows accurately portray paranormal investigations?
I'd like to think the ghost hunts are accurate, but I also believe the editors and producers have a big say. The other thing deals with the theme. If it's an adventure style show (like Ghost Adventures or Project Fear), then I'd expect some gonzo paranormal activity. That wouldn't fly with a show theme like Kindred Spirits, which is like a cozy mystery.
You can get my take on ghost hunting styles by show.
Where do you typically find the most credible paranormal shows?
You really have to go hunting for them. I have favorites on YouTube (Ouija Brothers) and the streaming networks (Kindred Spirits and Ghost Hunters), and I do like HauntTV shows like Haunted Gold Rush (although I liked the dark history more than the ghost hunting).
But I'm also not naive. I know even these shows have some editorial manipulation.
What frustrates you the most when watching these shows?
Overreacting to ghostly activity. If you're going to scream and run away, then stop paranormal research. I should clarify: If the Headless Horseman grabs you by the neck, you can scream. If there's a bang down the hall, get your fucking flashlight and go find what fell.
Really, I'd rather have the investigators find nothing at all than freak out at everything that goes bump in the dark.
Do you think the shows exaggerate or fabricate evidence?
Exaggerate, prolly. Fabricate, prolly fewer than 20%. I wouldn't say the investigators are all in on the exaggeration or faking it. Maybe a producer on site is mucking around to make something happen. That could be the case with a cast member, too. It's hard to get authentic reactions if you're always faking evidence, so I think it's not as common as most believe.
What would you like to see more of in these shows?
I'd like to see more historical deep dives, an expansion on urban legends or folklore about the area, and more ghost hunting procedures. I like a howdunit, whodunit show like CSI and other police procedurals.
Do you prefer shows that lean more toward the sceptical or the believing side?
Personally, I like to see skeptics turn into believers. However, it's more interesting to see the believers get excited by the evidence or experience.
Do you think there are too many episodes or shows focused on demons?
Too many. Really, just have a show dedicated to demon banishing, and let the others solve their mysteries or help the family with grandma's spirit.
Would you like to see more local folklore and legends integrated into episodes?
Absolutely. Mix all the dark history, legends and lore into a big ol' stew of creepiness. Please and thank you. This gives the investigators a focus to see how reality is different from myth.
To what extent does the use of ghost hunting technology affect the credibility of the show?
Most gadgets are dubious or have limited use cases. They're so sensitive, it could be anything triggering them. It's a bit different with EVP, which I believe is the most credible evidence. I'll give more credibility to shows that use tech over psychics and personal experiences every time.
How do you feel the inclusion of a psychic medium affects the credibility of a paranormal reality TV show?
I understand using psychics when the leads dry up or you need more clues to solve a case. This is what Kindred Spirits does with Chip Coffey. I don't mind it in those cases. If it's to ramp the heebie jeebies, like The Dead Files, then I wouldn't call the investigation much of an investigation, and that hurts the credibility of the show.
How do you feel the inclusion of a demonologist affects the credibility of a paranormal reality TV show?
I don't like it one bit, and I don't buy it for a second. For one thing, what makes someone a demonologist? Unless you're a Vatican-trained super agent, don't even bother me with this stuff.
Ok, let me know what you think in the comments below. This could be a fun topic to discuss.