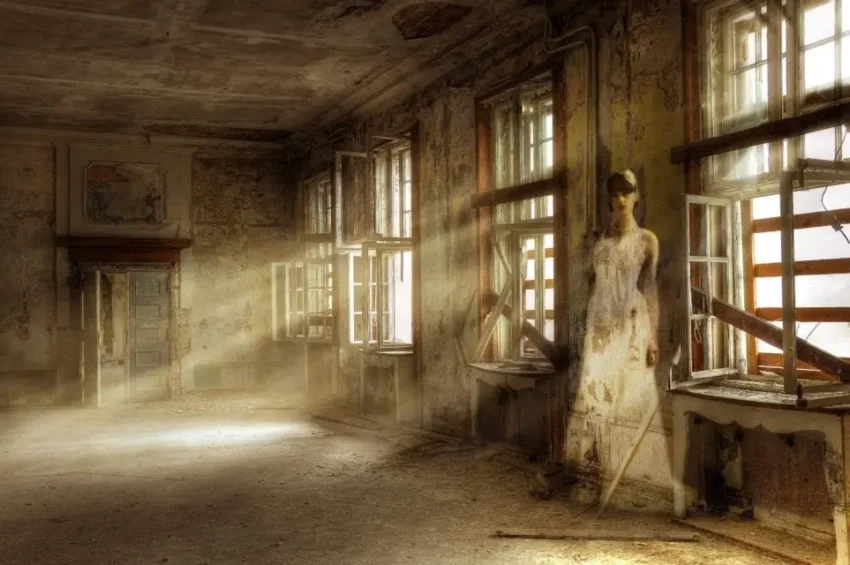 Gray Ladies: Helpful & Protective Ghosts
Gray Ladies: Helpful & Protective Ghosts
Gray ladies are one of the first ghosts recorded in England. Those tales came over to the United States with immigrants. But, gray ladies haven't seemed to manifest as often as their closest ghost relation, Women in White.
Let's find out more after the jump.
What are gray ladies?
Gray ladies are the ghosts of women who died from intense heartbreak or loss. The name, gray lady, is a misnomer: These ghosts come in many 'shades,' such as:
Gray
White (different form than a 'woman in white,' discussed later in this post)
Brown
Green
Black
Gray Lady Trigger Events
There needs to be a traumatic event to create a gray lady like many ghosts. In all cases, lost love leads to the woman dying, usually by her own hand.
Some of the events include:
Suicide after jilting – The most common trigger event. Many young women commit suicide after their fiancés leave them on their wedding day. Sadness and embarrassment overcome them and they kill themselves. In many cases, they jump to their deaths, drown themselves or take poison.
A lover's death – The second most common trigger event. This tends to happen to newly married couples when the husband goes into war. Upon hearing about his death, his wife starves to death. It also common for her to poison herself on her husband's grave.
Removal from family – This event creates one of the more violent types of gray lady. In this instance, a young lady is taken from her family or her family dies tragically. Overcome with grief or insanity, she dies within a few days of her family's burial.
Gray Lady Haunting Characteristics
Gray ladies haunt locations in a benevolent way. They protect people who live in their former homes. It's common for these spirits to do housework, protect small children and pets, and warn the inhabitants of dangers like a fire. Because they show physical haunting characteristics, they are easy to confuse with poltergeists (more on this later). Most paranormal investigators will classify these cases as intelligent hauntings.
These spirits also manifest with the best documented evidence for hauntings:
Partial-to-full apparitions (most likely a woman overlooking a home's front entrance)
EMF spikes between 4mG – 8mG
Temperature decreases between 5 degrees and 10 degrees
EVPs rated Class A or Class B
Banging or knocking sounds
Phantom footsteps
Confusion Between Gray Ladies, Women in White & Poltergeists
Superficially, gray ladies seem like women-in-white ghosts or poltergeist hauntings. It's important to look at the evidence and research to determine the ghost's nature and motivation. Women-in-white ghosts murdered their own children and they seek to hurt people. They are usually found near bridges and other bodies of water. Gray ladies will always help people who live in her former home.
Gray ladies in black clothing also cause confusion. Many people believe this shade is evil. That's not the case: These ghosts may manifest in their funeral gowns, which may be black. If this ghost apparition tries to hurt you or others, then it's most likely a specter.
In the USA, there's a tendency to call white ladies (a shade of a gray lady) as women-in-white ghosts. This mistakenly inflates the number this evil ghost's appearances. Again, look at the evidence and then assign the label. Gray ladies and its shades are far more common than women-in-white spirits.
Poltergeists also attempt to harm the person they attach to. A gray lady would warn the targeted person and protect them from further harm. Also, poltergeists never manifest as an apparition: Gray ladies do.
Since gray ladies tend to be helpful, most ghost hunters and paranormal investigators leave them alone. After all, there's no reason to clear a ghost this helpful.
Research sources:
Guiley, R. (2007). The Encyclopedia of Ghosts & Spirits. Gray Ladies (3rd Ed. pp. 204-205). New York, NY: Checkmark Books.
White Lady (ghost). (n.d.). In Wikipedia.org. Retrieved from https://en.wikipedia.org/wiki/White_Lady_(ghost)
Feature image source:
images3.alphacoders.com/246/246139.jpg