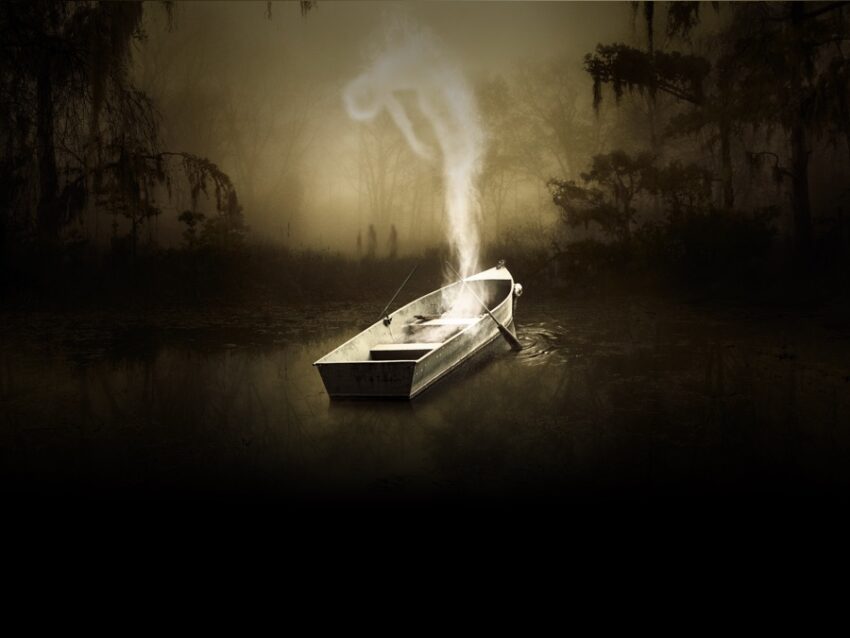 Review | Ghosts Of Morgan City
Review | Ghosts Of Morgan City
Ghosts of Morgan City follows a team of paranormal investigators as they look into a rash of hauntings in Morgan City, Louisiana. Get the review after the jump.
Ghosts Of Morgan City Background
This is a successor to Ghosts Of Shepherdstown, which aired on Destination America for 2 seasons. In February 2019, Nick Groff stated that the show had been re-cast, but no other details were available.
In May 2019, Travel Channel announced Ghosts Of Morgan City would air in June 2019, and it would have Chief King of Ghosts Of Shepherdstown involved. The other cast members, Elizabeth Saint, Nick Groff and Bill Hartley, would not return. An entirely new group of investigators was announced: Ben Hansen; Jereme Leonard; and, Sarah Lemos.
MAK Pictures, which also produced Ghosts Of Shepherdstown, makes this show.
Investigators
Ben Hansen
You may recognize Ben Hansen from Fact Or Faked: Paranormal Files. That show was cancelled in 2012. Since then, he's appeared on Paranormal Lockdown and Ghosts Of Shepherdstown. He's a former FBI agent, so he's got some investigative skills. You can get more info on his personal site.
Jereme Leonard
Jereme's the demonologist on the team. I couldn't find much about him and his team, GhostQuest Paranormal of Louisiana. Jereme has done many podcast appearances.
Per his listing on ParanormalSocieties.com:
"We are a small Elite group. With each member Specializing on the paranormal field. Combined we have over 15 years of experience. We are a professional group. Not just some want to be ghost-hunters!!! We specialize in the occult , demonology, Exorcisms and house cleansing."

source: GhostQuest Paranormal of Louisiana, http://www.paranormalsocieties.com/view_society.cfm?id=5700
You can also follow him on his Facebook profile.
Sarah Lemos
Sarah is the psychic medium on the team. She's from Salem, Oregon. I couldn't find much about her, either. However, she's a special guest for Banner Travel's Ghost Hunter Cruise.
You can follow her on Facebook, her own site, and she has an e-book on using sage.
Other Cast Members
When the haunting outbreak happens, Jereme gets a call from the police chief of Morgan City, Chief Bo, who's looking for help investigating the ghosts. Diane Wiltz, a local historian and archivist, helps Ben, Jereme and Sarah uncover the dark secrets of the town. It's all under the watch of Mayor Grizzaffi.
Episode Structure
Ghosts Of Morgan City takes a different approach to setting up the story, it uses a three-act structure. This helps with its narrative approach to the story: You'll follow the investigators as they discover the ghosts and mysteries of the town.
It begins with the inciting incident that kicks off the episode. A woman encounters a spirit while driving through a misty patch along Lake Palourde. The local police call the team to check it out, and the narrative arc begins.
Unlike a close-ended ghost hunting show, like Ghost Adventures, the story needs to build over 8 episodes. It's going to be a slow burn for most of the season. But…which is unfortunate…it's edited like a close-ended episode.
To help build suspense, we get to see re-creations of the ghostly encounters. This is a bit like Paranormal Witness and My Haunted House. It sets the mood, and the team gets to add their expertise to explain what's happening.
In the middle, we get some old-school history and investigation as the show builds towards a cliff-hanger ending. Along the way, we get some Cajun culture and lingo thrown in. It's almost like a murder mystery, paranormal CSI mash-up.
When the ghost hunt begins, there's more focus on the investigators working to their strengths.
And the tension builds as we head toward the cliff hanger.
In the final segment, there's a twist and new evidence gets revealed…like any good serial will do. And then there's some closure on the first case, and the setup for the next one.
Episode 1: Ada LeBoeuf
Most articles on the show will reference the ghostly mist, but I'm going with the prime ghostly suspect, Ada LeBoeuf. She was the first woman to be executed in the state of Louisiana in 1927.
Back to the start, there's the lady, Amy LeBoeuf, who encounters a spirit after her truck stalls by Lake Palourde. In the mist, a spirit manifests and scares the sh!t out of her.
The cops get involved and they call in the team, but we didn't get the scoop on why these investigators were selected in this episode.
Anyway, Diane Wiltz, the local historian, meets with the team and tells her about the people involved with deaths along Lake Palourde. It gives them some leads for the investigation.
Ben interviews the great-grand daughter of Ada LeBoeuf, the prime ghostly suspect. We get some insight into her character from letters she wrote. Then, a re-creation details her crime.
With that info in hand, the team sets up their experiments, what they're looking to capture, and how they'll measure the ghostly activity.
The focus really isn't on the gadgets, although we do get to see K.D. Stafford's custom-made gadget to detect the spirit of Ada LeBoeuf.
In the end, things wrap up nicely with a twist on Ada's murder conviction, and the LeBoeuf family gets closure on the ghostly phenomena.
The episode's pacing was brisk and I didn't want to turn away. But there were some groan-worthy uses of ghostly gadgets.
Paranormal Investigation Techniques
For the most part, there wasn't much to say about the experiments. The investigators spent more time researching the ghost in question.
At first, the gadgets made sense. There would be infrared cameras set long the lake's shore. All aimed at places tied to the Ada LeBoeuf murder case. I totally agree with this approach.
Jereme and K.D. debunked false positives from bugs. Ben explained why the gear was selected and what they were looking for. Makes sense to me.
Then, Sarah walked to the shore to connect with Ada's spirit. She became ill when she felt Ada's presence. I get it: Spirits can impact a medium's physical health.
When that happened, the team used a fog-making-electrically-charged device. In it, Jereme saw a face and figure as described by Amy LeBoeuf, the witness at the beginning. Fog is notorious for matrixing. I know the inciting incident was a ghostly mist, but still. They all accepted that was Ada's ghost, and then used a REM pod as an engagement device. With all the bugs in the area, any of them could have set off the REM pod.
I'm surprised the team didn't use automatic writing since Ada was a bit of a letter writer.
Otherwise, not much to say. The gadgets and evidence analysis isn't a major factor in the show.
Ghostly Activities' Take
This is probably not what the producers want to read, but I found the supporting characters, location, Cajun culture and historic research more interesting than the investigators. I absolutely loved how Diane Wiltz doled out the creepy, historic info with her Cajun accent.
I'll cut to the chase: Ben asked the right questions and his approach was spot-on with witnesses. But, I didn't connect with him as the 'straight man.' He's like Xander from Buffy The Vampire Slayer, but without the humor. I get that he's the former FBI agent, but I need to see more personality from him to connect.
As for Jereme and Sarah, I think they'll develop more as the series goes on. They've got some interesting hooks, like his local boy angle, and her matter-of-fact delivery of psychic information, which is refreshing.
I'll continue to watch the show. It's better than the first episode of Ghosts Of Shepherdstown, which had no chemistry between the cast at first. At least this crew might have spent some time together before the show started.
To me, the setting (St. Mary Parish), Cajun culture, historic research and mystery sells the show.
Ghosts of Morgan City airs Friday nights on Travel Channel at 9 PM ET/PT.
All images from Travel Channel press materials. © 2019 Travel Channel and MAK Pictures.