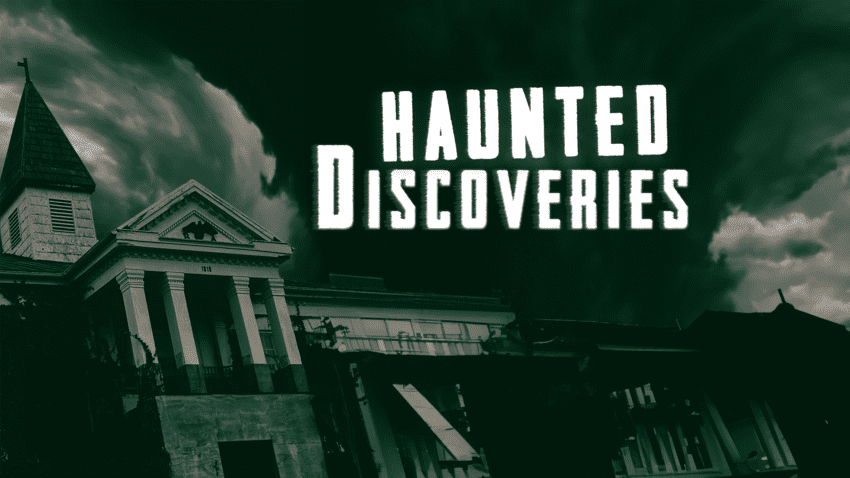 Review | Haunted Discoveries Ghost Hunting Show on T+E
Review | Haunted Discoveries Ghost Hunting Show on T+E
In October 2023, Haunted Discoveries premiered on T+E, a Canadian cable channel, as part of Creep Week. This show follows 4 investigators using scientific means to capture ghostly activity. It features 2 former cast members of Ghost Hunters (A+E). Get the full review after the jump.
Background
Haunted Discoveries has actually shot 2 full seasons before it aired on T+E. Brandon Alvis and Mustafa Gatollari, both from Ghost Hunters (A+E), lead the team that puts much more emphasis on science. They're joined by Malia Miglino and Kevin Otte, who are new to paranormal reality TV shows.
The first season showcases Kentucky haunts, but not the ones you normally see on ghosty shows. The first two, The Conrad-Caldwell House and Bourbon Inn, I had never heard of. It's always nice to see haunts you haven't seen before.
As for the science bit, well, I'm not so sure they're really following scientific methods as closely as they believe. More on that later …
Cast
Brandon Alvis
Mustafa Gatollari
Malia Miglino
Kevin Otte
Show Format
Haunted Discoveries claims that it's taking a fresh approach to the stale and heavily formulated reality ghost hunting tv show. For the most part, it does follow the standard formula. Malia interviews owners and witnesses. Brandon, Mustafa and Kevin attempt to recreate the ghostly activity and capture it with gadgets. However, there wasn't much of a reveal (evidence showcase) to the client. Both episodes just sorta ended with some snippets of additional ghostly evidence.
What I like about their approach is the emphasis on the real historic record and trying to recreate the activity. However, it seems out of balance. There's a lot of interviewing, I mean A LOT, and talk. In the first episode, I had to yell shut up at the screen. I don't think anyone took a breath. It distracted me from the viewing experience. Luckily, they changed it up for the second episode and had more pauses. I mean, how can I listen for EVP and beeping gadgets with all that talk? Don't get me started on the loooooooooooong interview with the historian guy at the Bourbon Inn. Too much talk again.
I think the big problem here is too much exposition, and not enough ghost hunting. Speaking of which …
Ghost Hunting Techniques
I don't have any quibbles with how the team goes about running experiments. They've got more than enough gadgets to capture visual, audio, engagement and environmental evidence. I just wish there were more investigating. In the first couple of episodes, they spent most of the investigation in one room. These haunts were huge, so I wonder why they didn't check out other rooms/basements/attics/etc.
Gadgets
The Haunted Discoveries team brings the GADGETS! That's something I can get behind. Brandon has EDI's, ambisonic audio recorders, thermal cameras, and one gadget I-forget-its-name-but-it-measures-light-particles. That lightparticlethingymajig (EMCCD camera) caught a shadowy figure on the stairs at the Bourbon Inn.
BUT …
I wish we saw them in action more. The rooms were crammed with investigators and camera operators. All those humans seemed to get in the way. I think it might be better split up the investigators, send them to different hotspots at the haunt, cover more area, and get clean shots of the gear.
Evidence
The evidence presentation could use some help. With all the gadgets and camera operators roaming around, you'd think there'd be more evidence to show. Not the case. I get it if they want to show what ghost hunting is really like (Folks, it's really boring in real life), but you need to keep things interesting.
In that regard, when the team does capture evidence, it feels like an afterthought. Other shows, like Ghost Adventures, will replay the evidence snippets to death. Not so much here. We get an EVP played once or twice, and a ghostly figure walking up the stairs (Bourbon Inn episode). Sometimes, the camera swings around to show blinky lights on gadgets.
I really think they can spend more time on both the ghost hunting and evidence presentation. It's pretty lackluster in the first 2 episodes.
Conclusion
After watching the first 2 episodes, I can't recommend the show. I do like what they're trying to do with showing a real ghost hunt, using science, avoiding jump scares, and sticking to the historic record. It's the execution that lets the show down. It's boring. The fact is this: People watch ghosty shows for a spooky adventure, creepy evidence, and dose of dark history. And I didn't get enough spooky and creepy.
I think the show is close to where it needs to be with a few tweaks.
How To Improve Haunted Discoveries
These are the things to tweak to make Haunted Discoveries a killer good show:
Spend more time investigating the haunt (it's still a ghost hunting show after all)
Move around the haunted place (sticking to one spot is boring unless you have apparitions)
Show the evidence as you capture it (replay the snippets at the timestamp)
Cut the interviews down to the best bits (talking heads slow down the pace)
Add a longer reveal (viewers are here for the evidence so let it shine)
I've got another review for History's Most Haunted coming soon. That show also airs on T+E.
Feature image: By Hauntedbyhistory – Own work, CC BY-SA 4.0, https://commons.wikimedia.org/w/index.php?curid=138516827