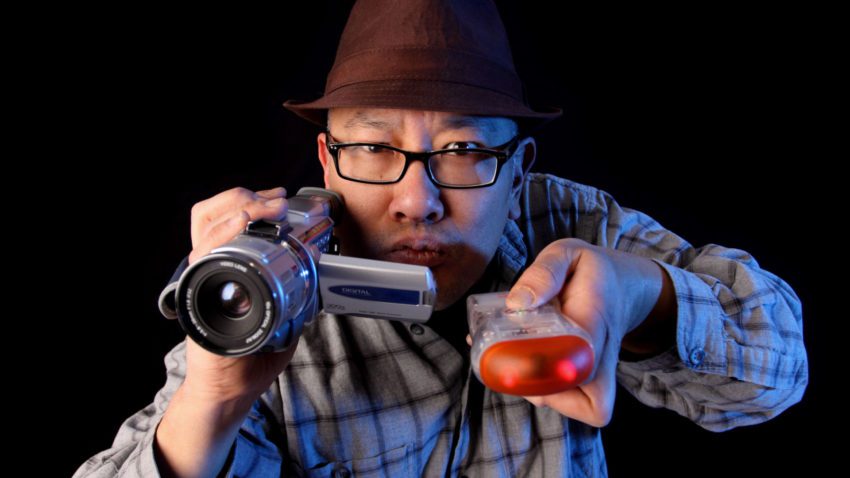 3 Ghost Hunting Gadgets Every Cozy Ghost Hunter Should Use
3 Ghost Hunting Gadgets Every Cozy Ghost Hunter Should Use
Gadgets are a big part of cozy ghost hunting. You rely on them to collect clues to solve the ghostly mystery. But you don't need to break the bank or have an arsenal on hand. Get the scoop on which 3 gadgets give you the bang for the buck after the jump.
The 3 Gadgets Cozy Ghost Hunters Need In Their Backpacks
When you get to a haunted location, it's time to get to work on solving the mystery. Gadgets will help you notice when a ghost manifests and collect clues about it. The ghost hunting equipment you select should enable data collection. If it doesn't, then don't bring it. Ghost hunting can be run 'n gun all night: Too much gear slows you down.
I select my gear based on my goals, objectives and ghostly research. If you hope to get pictures or video, a ghost voice (EVP), and some interaction with the spirit, then you've got to know the use cases for each gadget.
Here's a big reminder: Analyze your data and clues within 24 hours of completing your investigation. I've known ghost hunters who review their audio 3 months after the investigation. They forget the context and can't tell you what happened when they finally hear an EVP. Context matters a lot.
Now, let's look into some gadgets, but don't forget one that's in your pocket. Your smartphone has a great video camera and audio recorder built in. You can use that in place of 2 of the 3 gadgets listed below. It helps to be frugal when shopping for gear. More on that below.
EMF Meter
Use Case:
EMF meters measure electromagnetic fields from upto 25 feet away. Paranormal researchers believe that a ghost may create anomalies in the EMF when they manifest. This gadget will alert you to the anomaly. Ghosts tend to manifest between 2mG and 10mG. Anything below that is likely any natural occurrence, and anything over 10mG is likely a manmade appliance.
Evidence Collection:
Before you investigate, walk around the haunted place to see how the EMF meter responds. Try to see what causes the spikes. In many cases, it's an appliance or cell phone. I'd recommend an EMF meter with a digital display so you can note an accurate energy reading. It could be a clue that you can map back to your research. I also ask 'Yes/No' questions and ask the ghost to touch the meter for 'Yes' responses. The meter will light up or beep to signal a ghost touched it. That can help get clues for your case.
EMF Meter Types:
K2 (alt. sp. KII) uses ranges from 0mg to over 20mg. Very popular selection for new ghost hunters. Don't spend more than $50 for one of these.
MeterK is good for intermediate investigators. Digital display shows tenths of a mG. You can buy a new one for less than $50.
MEL 8704-REM-ATDD is for advanced investigators. It's spendy and does more than just measure mG. Has a digital display (I use this one). Expect to spend more than $200.
Camcorder
Use Case:
Video is one of the best ways to collect evidence. You get the full context of the investigation, and you can replay the video again to find more clues. There's 2 important things to note:
You may need a video editor (i.e. software) that adds more cost than you'd like
You may need an external microphone because camcorder audio is pretty lousy
Now, you don't have to film with the lights turned out. You see that on all the ghost hunting tv shows. It's not required in real life. Remember, the best pics of ghosts have happened during daylight. Witnesses report seeing ghosts with their own eyes, so you don't need infrared or night vision to start.
Evidence Collection:
Here are some tips to ghost hunt with a camcorder:
Shoot with the wide angle on. You never know where a ghost will manifest. You can zoom in during editing, or even on location. If you're too close, you could miss something in the background. Ghosts don't just walk up to introduce themselves.
Get an external microphone. Audio rules the ghost hunting evidence world. Many camcorders and cameras have bad microphones, or they have limited range. You need a microphone that can pick up a whisper 15 feet or more away.
Be ready to move. When activity starts, you'll have to grab the camera and go the haunted hotspot. Big, bulky cameras can be a hindrance. This is where handy cams and phones to well. Get a quick release mount if you use a tripod.
Use a body camera (like police officers have). It's portable, clips on, and has better audio than you think. Most have infrared available, have long battery life, and long recording times. They're also less expensive than camcorders.
Camcorder Types:
Handy camcorders made by Canon, Sony or Panasonic have sharp pictures, and some offer infrared or night vision. They can mount to tripods and offer autofocus shooting. Canons do better in low light settings (in my opinion). These cameras tend to have varying prices from as little as $200 up to $2,000. You can likely get used versions for a lot less.
Modern smartphones are another good option. You probably have one right now and know how to use the video portion. I'd still recommend an external microphone. I like the ones made by Rode or Movo. There's many options under $50.
Body cams have great resolution, image stability, and better audio than you think. You can get a decent one for less than $150. Then, clip it on your shirt and get to investigating.
Digital Audio Recorder
Use Case:
Digital audio recorders are some of the easiest and most effective ways to gather clues. For the most part, you just press the record button and you're in business. Audio recorders capture EVPs (electronic voice phenomena), or ghost voices. You ask a ghost questions and listen back to the recording for their response. It helps to have audio processing software (a digital audio workstation) so you can polish the sound quality. Many EVPs sound like whispers, so you may need to boost them to hear what's said.
If you have an iPhone, you can use the voice memo app. I'm sure Android has something similar. Audacity is a free software program that will help you edit the audio file. There are many tutorial videos on YouTube to watch and learn about it.
I'd still recommend an external mic, like one from Movo, Rode or Shure, to improve the audio quality from a smartphone. If you get a handheld audio recorder, look for one that is 180° or more. Shotgun mics only pick up what's right in front them. EVPs can come from any direction.
Evidence Collection:
First, make a list of questions you want to ask. If you've done your research into the haunt and its ghosts, then you'll have many. Once you've settled into the spot, place the recorder on a table or the floor. You don't want to hold it because it may pick up your handling noise. That could wreck the audio quality.
Every time you ask a question, wait 15 seconds for a response. If you have other people with you, they need to be quiet. EVPs are soft: Any extra noise could bury them. Don't rush your questions. It can take time to get a response. You can also wear headphones to hear a real-time response. This is my preferred way to run an EVP session.
I usually don't exceed 30 minutes for a session. I also play back my audio after that. You may have a response that leads to deeper questions for the next session.
When you get back home, upload those files into a computer and start listening! Always try to wrap this up within 24-48 hours before you lose context.
Digital Audio Recorder Types:
We've already mentioned your phones, so here's some other good ones.
Sony ICD-PX series. Simple to use and costs less than $75.
Zoom H1n Handy Recorder. Captures audio from more than 180°. Costs around $100.
Zoom H4n. Amazing recorder that captures audio from more than 180°. Costs about $230.
Luckily, you can get many of these used or renewed for half the cost of a new one. Start with your phone and then move to one of these.
Where To Shop
This isn't an endorsement for the retailers. I'm listing the places I've bought ghost hunting gadgets, and they've lasted beyond their warranties, or you can buy used gear.
Amazon
Ghost Stop
Ghost Hunters Equipment
The Ghost Hunters Store
Gotcha Ghost
eBay (for used gear)
Facebook Marketplace (for used gear)