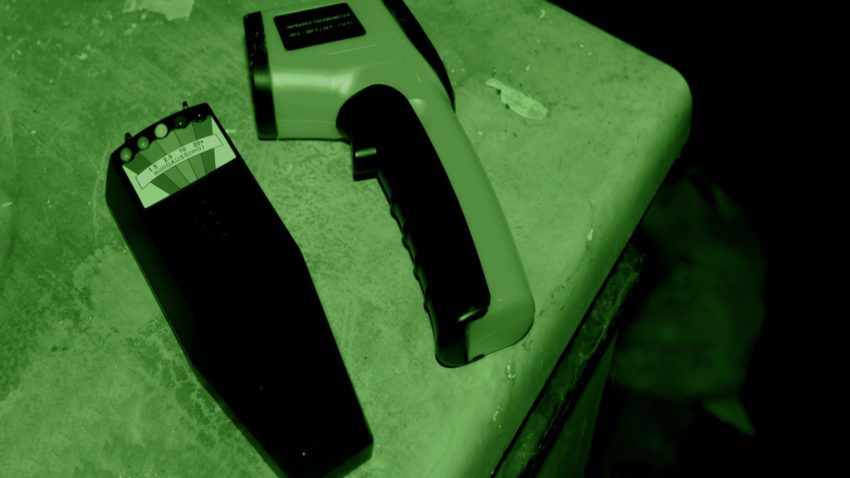 Ghost Hunting Equipment Advice For The Cozy Ghost Hunter
Ghost Hunting Equipment Advice For The Cozy Ghost Hunter
When it comes to a ghost hunt, there are 3 tips I give every new ghost hunter. Read about them after the jump.
Ghost Hunting Equipment Advice For The Cozy Ghost Hunter
Here are 3 tips to consider when selecting ghost hunting gadgets:
Let the research guide your decisions
Don't overspend on a ghost hunting gizmo
Only bring what you can manage on an investigation
Let's take a look at these a little more.
Let the Research Guide Your Decisions
Your selections should reflect what you want to find. When you look into the location's history and eyewitness accounts, make a note about what people have seen, heard, felt, smelled or tasted. Ghosts manifest in many different ways. You want the gear that best captures their manifestations and helps identify the ghost.
For example: You meet with a client who sees shadow figures in her living room. That's visual evidence, so you want something that would capture a deep shadow. Your options would be your phone, a digital camera, an infrared camera, or a camcorder.
Now, smelling and tasting can be hard to capture with gadgets. I'd stick to the visual, auditory and touch-activated equipment at first.
Don't Overspend on a Ghost Hunting Gizmo
You don't have to drain your bank account on ghost hunting gear. Look for deals, sales, second-hand gear and other cost-saving ways. My first ghost hunting kit cost less than $150, and I got strong indications of ghostly activity.
For example: Talking about the earlier example of a shadow figure, you can use your phone. Most phones let you take videos and snap pictures. I don't see the point of buying a Canon XA50 right out the gate, eh?
Only Bring What You Can Manage to an Investigation
I used to bring too many paranormal gear on an investigation. So much stuff that I spent most the time moving it, setting it up, and monitoring it non-stop. Plus, I forgot gear at places because I lost track of it. Don't do that. You have limited time. Keep it practical. You've only got 2 hands, so don't bother with more gadgets than you can hold. Also, you may have to move quickly in a haunted hotspot. Too much gear slows you down.
For example: There's usually 3 types of evidence you can collect: visual, auditory and feelings. Think about what collects those 3 things. Your phone can do a lot with video and recording sound. That's one gadget that does 2 things. The last one is touch, which phones don't capture very well. But you've got another option. Think about a digital thermometer or other temperature display. Many people feel cold spots, so a digital thermometer or FLIR infrared camera may work great for you, and they're not so expensive.
Again, let the research guide you. Don't spend too much. Only bring what you can manage on the hunt.