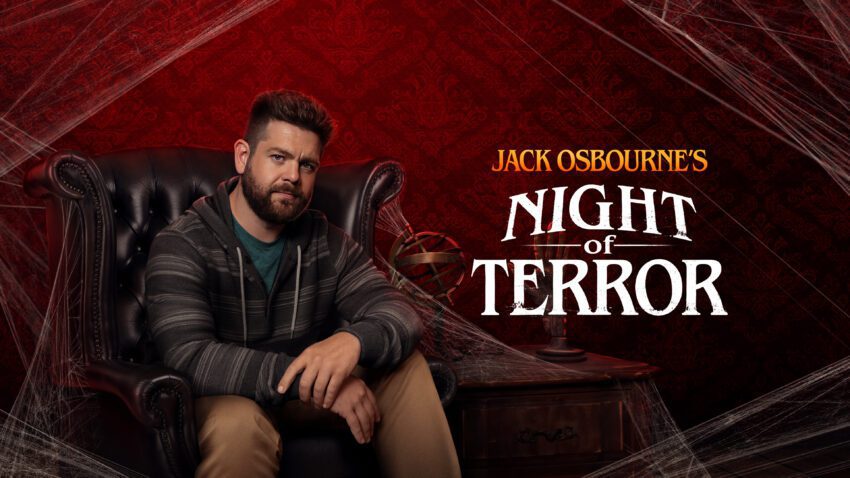 Review | Jack Osbourne's Night Of Terror
Review | Jack Osbourne's Night Of Terror
In October 2023, Jack Osbourne extended his series, Night Of Terror, to a 5 episode mini-series on Discovery +. It's nothing new in the niche, and you may find it pedestrian compared to his other shows. Get the scoop after the jump.
Review Criteria
For this review, I'll take a look at entertainment factor, evidence quality, storytelling, and compare it to other ghosty shows. This review focuses on the first 2 episodes (The Glen Tavern Inn and The Tinker Swiss Cottage). These episodes feature Sharon Osbourne and Jenny McCarthy. I'll use JONOT to stand from Jack Osbourne's Night Of Terror from here to the end. This is also a spoiler-free review.
Show Format
You've seen it all before but this time with celebrities. During the season, Jack will have these guests on:
Sharon Osbourne (Jack's mother and star of The Osbournes reality TV series)
Jenny McCarthy (MTV host and Scream 3 star)
Jamie Kennedy (Scream series)
Jason Mewes (Clerks movies)
Ozzy Osbourne (Jack's rocker dad and star of The Osbournes reality TV series)
Kelly Osbourne (Jack's sister and star his episode on the Queen Mary)
Chip Coffey (Kindred Spirits and Paranormal State)
Michelle Belanger (Portals To Hell)
Setup
Jack and his celebrity friend/family member/guest chat about the dark history at a haunt. They take a haunted hotspot tour and get the scoop on all the dark history and ghostly shenanigans. Then, there's a psychic sweep before the lights turn off and the gadgets come out. Of course, the psychics find all the dark entities lurking in the corners to setup the investigations.
It reminds me of The Dead Files, Portals To Hell and Conjuring Kesha getting together, having a nice brunch, and deciding to ghost hunt at the local museum down the street.
Investigation
There's not much to say: Jack and guest go to the haunted hotpsots, runs an experiment or two to confirm the spirits' identities, and that's about it. There's more emphasis on the guests' reactions or encounters than on the gadgets.
Reveal
Just like Ghost Hunters, Jack and the celebrity guest meet up with the haunt's owners or staff, and show the evidence. You've seen it all before.
What's Good About JONOT
Wow … Jack cut out the woo and jump scares. I'm used to a lot of paranormal drama, demonic entities and other crazy in his shows. This was far more like Kindred Spirits and Ghost Hunters. It was a relaxed investigation versus a gonzo ghost hunt a la Ghost Adventures and Project Fear. I kinda like the change.
This show is beautifully shot. The B roll is absolutely gorgeous. This is a trend I've noticed with a lot of ghost hunting shows over the past year or two. There's less emphasis on shooting in infrared or full-spectrum light, and more on using a mirrorless camera or higher-end camcorders. Casual viewers may not pick it up, but I love a talented DP (director of photography) and camera operators.
I also found the storytelling to be on point. The cast could actually breathe, take in the atmosphere, and investigate to find something. The setup hit all the points it needed to tie together the evidence and experiments. I still have some quibbles with the history exposition (more on that below). In a nutshell, I completely understood the narrative Jack went for.
What's Bad About JONOT
There are a few things that bother me about the show. First, the celebrity guests haven't investigated before, so they need a 101 before ghost hunting. When you watch a lot of these shows with seasoned teams, this gets dull fast. Sharon Osbourne and Jenny McCarthy needed some educating, and I thought it slowed down the show. However, it does mean the guests have authentic reactions.
Maybe I've been watching too many YouTube ghost hunting videos, but pick up the pace.
Second, the gadgets aren't anything cutting edge. You get the standards like REM pods, EMF meters, IR cameras, and ghost boxes. I noticed in the second episode (with Jenny McCarthy) had 2 REM pods too close to each other. Their EM fields will set each other off. Let's just say experiment rigor isn't a priority.
Third, it's obvious the production team didn't do much research into the haunt. Sure, they get the dark history highlights and ghostly suspects right, but it feels superficial. I like it when the location and the spirits trapped inside seem like cast members, and that's not the case with JONOT. Kindred Spirits does a better job of taking evidence to map against the haunted history. In the 2 episodes I watched, Jack did a background dump in the car. This is pretty common on shows, but could you get some archival pictures and make it more interesting?
I think what bothered me most is that Jack and guest just showed up to have a spooky time versus identifying spirits and helping out the haunt's staff.
Ghostly Activities' Take
Should you watch it? If you're a fan of Jack's shows, then you'll probably like it. Compared to his other entries (UFO, Bigfoot, Queen Mary and, more tangentially, Portals To Hell), I was a bit surprised that he turned down the woo, dark history, and jump scares. You might think it's a bit boring compared to his other work.
For me, I like the change. I'm more of a Kindred Spirits fan compared to something bat-shit bonkers like Ghost Adventures. Gimme a good investigation with solid evidence versus a freak out.
Overall, Jack Osbourne's Night Of Terror isn't the first ghosty show I watch when I flick on the streaming services, but when I watch, I'm into it.