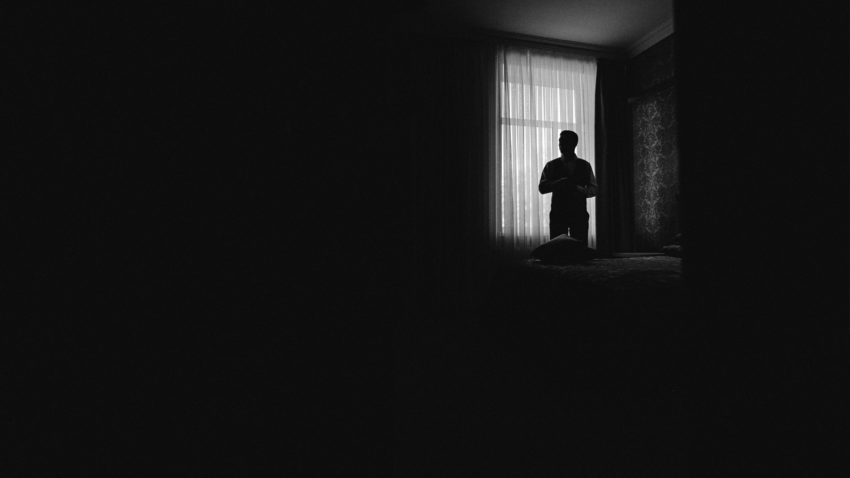 Shadow People | Black Mists Or Something Sinister
Shadow People | Black Mists Or Something Sinister
Find out what a shadow person is, how they manifest, how to capture them on tape, and what to do if you encounter one. Get the scoop after the jump.
What Is A Shadow Person?
A shadow person is a perception of a shadow as a living, humanoid figure. No one really knows what they are. Researchers speculate that they may not be the essence of a deceased person. Some people think they may be visitors from another dimension or reality.
In more extreme cases, witnesses believe they could be energy vampires because people have reported feeling ill or weak in their presence.
History Of Shadow People
The history of shadow people dates back as early as the 600s CE. Ancient Egyptians believed in shadow people, and called them the "khailbut." Romans believed these people came from the Underworld. Greeks thought shadow people were literal shadows of themselves, which they often gave up to Zeus as a gift.
The modern term "shadow people" was coined by paranormal researcher and book author, Heidi Hollis, who claims that shadow people have been around since the beginning of time and usually appear as dark human-shaped silhouettes in our peripheral vision.
How Do Shadow People Manifest?
Shadow people appear in a darker section of an already shadow-filled area, and in a humanoid shape. Most have a masculine silhouette. There's no warning a shadow person will manifest. In general, although shadow people often do have a human outline or shape, because they are dark, the details of their appearance are lacking.
Shadow people are seen just as their name describes: a shadow, most often in the form of a person. This shadow may be simply standing or even moving through a room on its own. Many people see them as a blur out of the corner of their eye, gone so fast that they are unsure of what was there.
The Link To Ghostly Activity
In my experience, shadow people tend to operate separately from other ghosts at a haunted location. They may not even realize there are other spirits. It's also interesting that you rarely get EVPs, EMF changes, or other atmospheric anomalies when they manifest.
Perhaps they're not the spirits of deceased humans? Hence the need for more research into their activities.
How To Capture Shadow People On Tape
This can be a difficult task for a ghost hunter. The deep shadows in rooms make it hard to focus the lens. There needs to be some contrast to get a crisp picture. In my experience, most infrared and full-spectrum cameras don't register the shadow person.
Here's my recommendation: Set the camera on the opposite side of the room to shoot a wide area. Use visible light because that's how most people experience a shadow figure, with their naked eyes. Add a thermal imaging camera if you can. We don't know if the shadow person will manifest warmer or colder than the ambient temperature.
As for audio, I've never recorded an EVP from a shadow person, not even odd static or other anomalies. If anything, it's been an absence of sound. When I return to the Old Courthouse Inn, I'll make audio recording a priority in the shadow-person room.
My Personal Experiences With Shadow People
Los Feliz House
I lived in Los Angeles between 2013 and 2015. One morning, I saw a shadow figure in the corner of my bedroom. This happened during daylight, which is odd. I couldn't move my body, and it felt like I had a bad hangover. Under these circumstances, I'd say it was Old Hag Syndrome, but my dog, Rhea, saw the shadow figure too. She jumped off the bed and went after it. The shadow figure vanished, and I felt normal again.
Old Courthouse Inn
I encountered another shadow figure in Room 6 at the Old Courthouse Inn at Powell River, BC. It was the first night of filming a documentary. Another investigator and I opened the door to the room when I caught a shadow person in the bathroom door. We could see it with our naked eyes, but the infrared camera didn't pick it up. On the second night, we caught it again. Again, the camera failed to capture it. The shadow person didn't have the same effect on me as in Los Feliz. That makes me think shadow people can have different manifestations.
What To Do If You Encounter A Shadow Person
This may depend on the type of shadow person you encounter. There's a special type, Hat Man, that tends to cause fear and energy draining. These shadow people could be dangerous.
In most other cases, they seem to be observers. They don't really engage and vanish when threatened or told to leave.
I don't think you have much to worry about unless it's a Hat Man. In those cases, flip the light switch and blind it. As far as I know, sage, salt, crystals, and other paranormal protection methods don't work on shadow people.
The Need For More Paranormal Research
There's more we don't know than we know about shadow people. My research will focus on these areas:
Increase audio recording and EVP analysis in known manifestation spots
Use thermal imaging to see if shadow people have temperature signatures
Record manifestation spots with standard and infrared cameras
Dedicate ghost-hunting time to engaging with shadow figures
This is just the beginning. When I go online to research encounters, I get a lot of stories and not much research methodology for shadow people. I'll write a report after my next ghost hunt at the Old Courthouse Inn.
References:
You've No Doubt Seen Or Heard Of Shadow People…But What ARE … – Ranker. https://www.ranker.com/list/what-are-shadow-people/brandon-michaels.
What Are Shadow People? The Explanation Is Beyond Creepy – Bustle. https://www.bustle.com/life/what-are-shadow-people-these-supernatural-entities-are-scarier-than-any-horror-movie-12219528.
Shadow person – Wikipedia. https://en.wikipedia.org/wiki/Shadow_person.
Shadow People | Psychology Today. https://www.psychologytoday.com/us/blog/shadow-boxing/201307/shadow-people.
Shadow person | Myths and Folklore Wiki | Fandom. https://mythus.fandom.com/wiki/Shadow_person.
Shadow people – PsychonautWiki. https://psychonautwiki.org/wiki/Shadow_people.
An in-depth examination of the different types of shadow people. https://www.pararational.com/types-of-shadow-people/.
Explanations for the "Shadow People" Phenomenon. https://www.liveabout.com/shadow-people-2596772.
Shadow People: Theories and Personal Experiences. https://exemplore.com/paranormal/Shadow-People-Who-Are-They.
Ghostly Types | Shadow People – ghostsandmonsters.com/ghostly-types-shadow-people/.