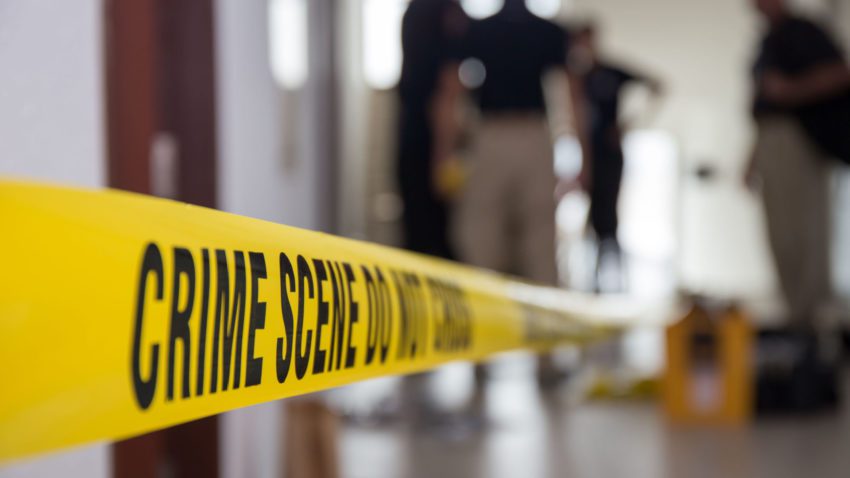 The Similarities Between Criminal and Paranormal Investigations
The Similarities Between Criminal and Paranormal Investigations
Ghost hunters and criminal investigators use similar processes and procedures to solve a case. Check out those similarities after the jump.
Basic Crime Scene Investigation Process
You might be surprised by how much criminal and paranormal investigations have in common. In this post, I'll detail what you can use from a CSI on your next ghost hunt.
Actions Taken By A First Responder
First, the initial documentation and survey aren't made by a CSI. It's made by the first police officer there. They'll secure the area to make sure no one contaminates it. After that, they will create a pathway so other officers and investigators can come and go. Then, they will remove witnesses and detain suspects for questioning. At this point, the officer marks the perimeter and notes who comes and goes.
The next part is an initial survey, which is a systematic way of documenting any evidence and any location of objects in the area.
Once the officer completes the initial survey, they will collect information like this:
What happened?
Who was present?
Why did it happen?
Where did it take place?
What was the sequence of events?
Answering these questions will give you a working theory about a crime. They also apply to haunted evidence. It's very much like a walk-through and review of haunted hotspots for paranormal investigators. You'd want to know where manmade electronics cause ghost-hunting equipment to trigger, and where a ghostly manifestation happens.
Initial Report
When the officer writes the initial report, it contains all the possible evidence, the working theory of what happened, all the names of witnesses and suspects, and contains time codes for every person that came and went at the scene. This report will go to the CSI and a detective. All three (first responder, CSI, and detective) will tour the scene to make sure the initial report correctly details any evidence found.
Again, this sounds like what you'd do during a walk-through or initial meeting with a client on a haunted case. A paranormal investigation report would have info about the client, who experienced a haunting, where did it happen, how the ghostly activity manifested, when it occurred, and then you'd tour the haunt.
A ghost hunter would turn over any pictures or sketches they made during a walkthrough, too. You could also make a list of gear to use on the initial investigation. There should be enough information from the client interview, walkthrough, and witness reports.
Command Center
The police create a command center, which is like a staging area, that has gear the CSI would use to collect evidence specimens or document the scene. We do something similar with a ghost hunt. There's an area where you store gear, charge it, monitor the investigation, and swap out SD cards.
Ghost hunters would set this up for their initial investigation, so this is one difference between criminal and paranormal investigations.
Initial Investigation
The initial investigation may not happen. It depends if there's enough evidence collected, if the witnesses are credible, and if you'll be able to access the haunted location. Criminal investigators go through a similar process: They review the initial report to see if they can do anything with the evidence and suspect interviews.
Many times, the initial criminal investigation happens right at the crime scene. Ghost hunters may not get the opportunity to run a mini-investigation during a walkthrough. I will not accept a case for a follow-up if I find drugs, feel my safety is at risk, discover mental illness of a client, or there are too many contingencies to investigate. Nobody has time to jump through hoops to investigate.
Case Screening
Case screening means the team gets together to see if they want to take the case. For police, they look at solvability factors like the quality of witness reports, physical evidence found on site, and interviews with suspects. Cases that are likely to get solved get assigned for a follow-up.
For ghost hunting teams, you have to think about your safety, the likelihood you'll get evidence to identify the ghost, and if you can access the haunt multiple times. If any of these have a red flag, then skip the follow-up. There are other haunted places out there.
Follow-up Investigation
This is an area where criminal and paranormal investigations diverge. Criminal investigators will look for more physical evidence and interview many more witnesses and suspects. That means they cross-reference fingerprint files, dig into witness and suspect backgrounds, use crime databases, send DNA out for analysis, and knock on doors.
Ghost hunters will whip out the MEL meter, audio recorders, and full-spectrum cameras to capture evidence of a spirit. I guess you could say the paranormal investigator interrogates a suspected ghost, eh?
Case Preparation
Case preparation is somewhat related to paranormal investigations. In this step, the criminal investigators assemble a file with all the evidence and submit it to a prosecutor to charge a suspect or court processing. The police may have already charged a suspect or they wait for the prosecutor.
For ghost hunters, a file is also assembled but there's an additional step dealing with evidence. Criminal investigators are always collecting and storing evidence. Ghost hunters do evidence analysis after their ghost hunts. It happens after you leave the scene.
But those EVPs and ghostly videos will be presented very soon.
Evidence Presentation
Ghost hunters give reveals to their clients, while criminal investigators have already turned their evidence over to the court, prosecutor, and defense attorneys. These will be known as exhibits during a trial. A reveal is when a paranormal investigator takes the client through the ghost hunt report and shows any evidence of ghostly activity. You've seen reveals on ghost-hunting shows like Ghost Hunters and Kindred Spirits. So, these are similar in concept and the timing doesn't quite line up.
Conclusion
This is also known as closing the case file. For police, the case is closed when an arrest is made, a criminal is charged, and prosecution begins. For ghost hunters, the case is never really closed. Hauntings don't stop. Ghosts keep up the spooky business. A cozy ghost hunter will close a case after identifying who the spirit was in life. The others … well, they'll keep on hunting for more evidence whenever they can.
References
Hess, Karen (January 2022). "Criminal Investigation," Cengage Learning, 12th ed.
Ogle, Robert (January 2017). "Crime Scene Investigation and Reconstruction," Pearson Publishing, 4th ed.
Genge, Ngaire (January 2004). "Forensic Casebook: The Science of Crime Scene Investigation," Random House, 1st ed.
Brandl, Steven (January 2019). "Criminal Investigation," Sage Publications, 4th ed.
Lofland, Lee (July 2007). "Howdunit: Police Procedures & Investigation: A Guide For Writers," Writer's Digest Books, 1st ed.