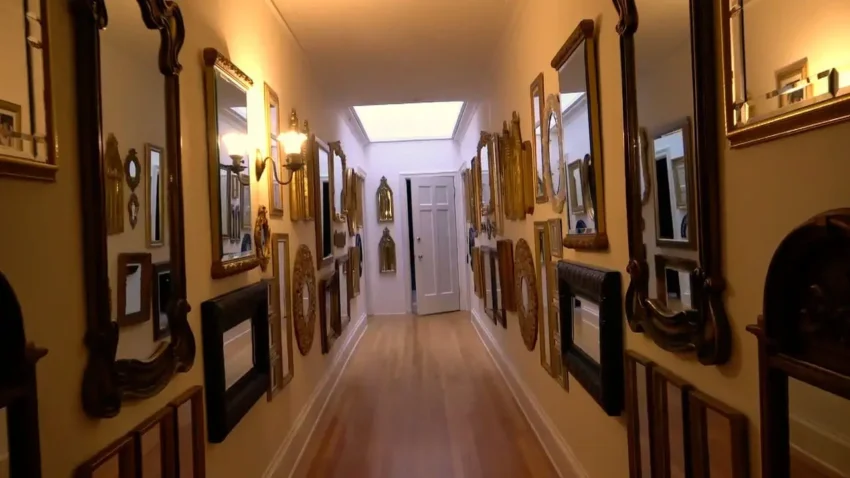 Haunted Mirrors | An Evil Spirit's Favorite Portal
Haunted Mirrors | An Evil Spirit's Favorite Portal
Mirrors. They say they reflect your soul. They're also a very common entry point for evil spirits. Learn how to defend yourself.
Mirrors can be troublesome. They share many of the same ghostly bonds as haunted locations. Usually, the two go together. Especially when an evil spirit is involved.
5 Reasons Mirrors Become Haunted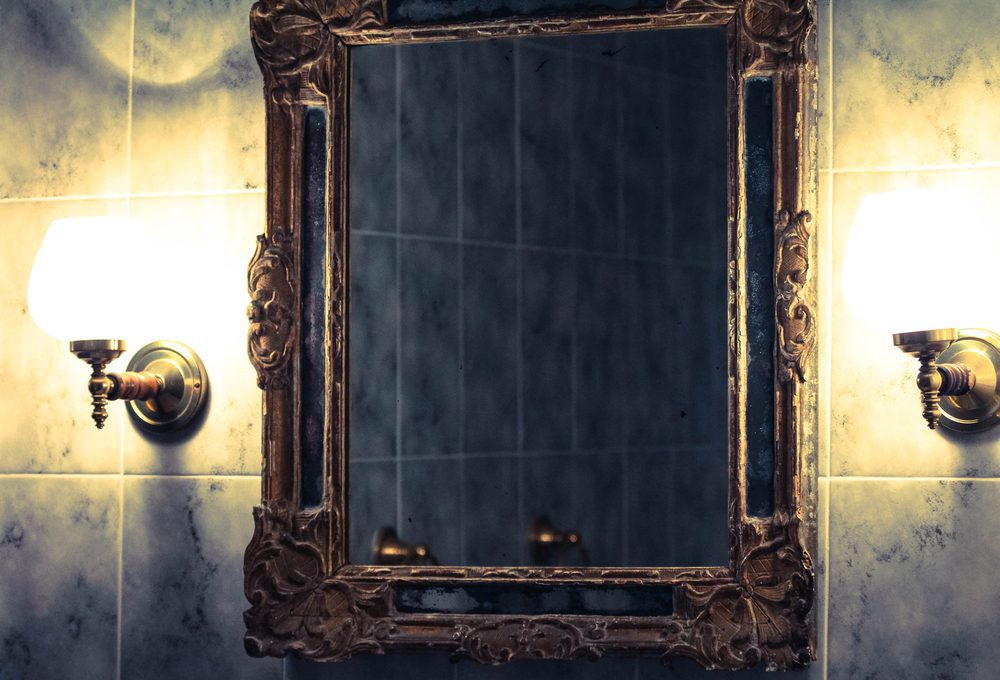 Ghost Portals
Some folklore suggests that mirrors act as portals to the spirit world. It is believed that by staring into one under certain conditions, one might make contact with the supernatural or even be transported to another realm. This suggests mirrors can be verges, or more likely keyed verges.
Trapped Souls
Vapid people leave part of themselves behind. They spend their days staring at themselves in one. That shard of love (or disgust) embeds in the mirror, and part of their soul remains in the object. Over time, the former owner's soul becomes twisted and creates ghostly activity.
Séances
During the Victorian era and Spiritualism heyday, mediums would use them during séances. Summoning spirits like this could leave one (or more) to a mirror. Over the years, people forget this happened, and it gets sold to a new owner or left behind when the family moves. Then, someone gets stuck with a possessed mirror.
Distorted Reflections
Folklore and superstition suggest that mirrors show parallel dimensions and other universes. Another version of you may use the mirror as a link to our world. In many cases, the world behind it is twisted. A monstrous version of yourself may enter and try to replace you.
Curses
First off, breaking a mirror doesn't mean you'll have bad luck or get cursed. It takes some black magic to cause it. That means the mirror may have been used in rituals to harm another person or even the home where it sits.
How Do People Find Haunted Mirrors & How To Prevent Ghostly Shenanigans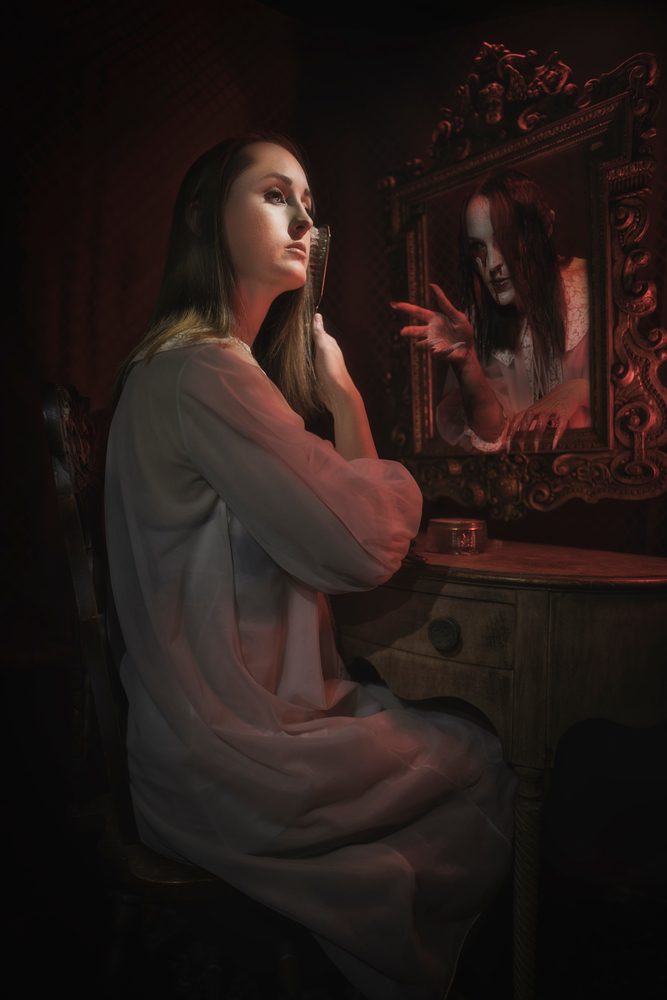 Estate sales and eBay. These are probably the easiest ways to acquire a haunted mirror.
These are very popular collectibles, but they don't come with a curse-free guarantee. If you buy an antique or previously owned mirror, you could invite spirits into your home.
To be safe, you may want to research its history. During your research, if you find the previous owner committed crimes or the home where the mirror hanged was the scene of tragic events, then you may want to pass on the sale. You could also ask a psychic, gifted with psychometry, to review it. If they pick up bad vibes, move the mirror out of your house. At the very least, leave it wrapped up so you can't see your reflection. Once see your reflection in it, the mirror could open up to the spirit world.
How To Protect Yourself If You Have A Haunted Mirror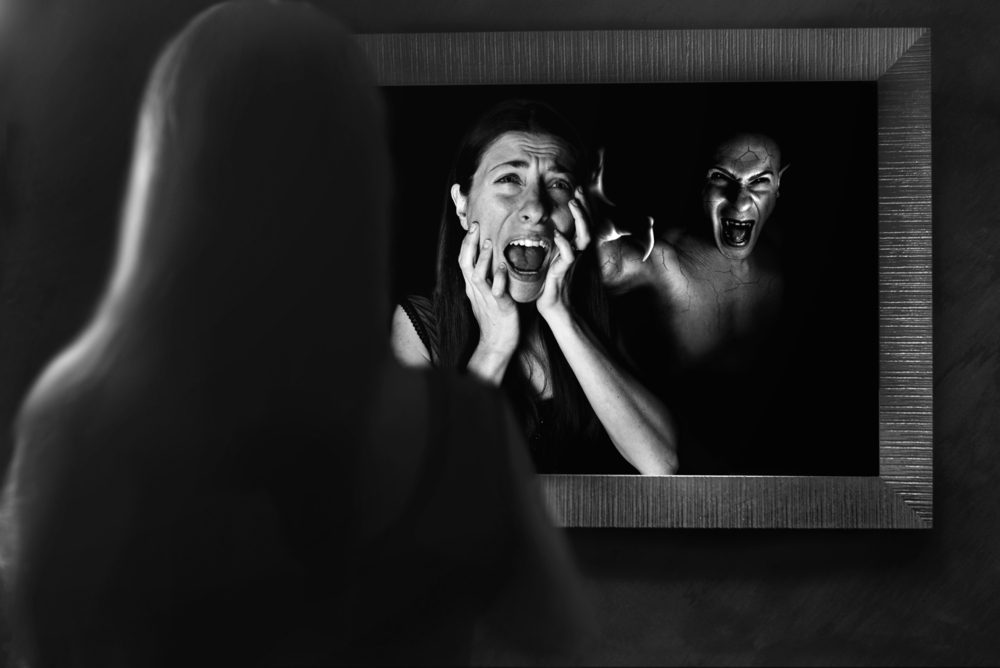 There really isn't a good way to purge the spirit from a haunted mirror, and these are the most common ways people have protected themselves:
Cleansing Rituals
Use traditional methods of cleansing or purifying spaces. For example, burning sage (smudging), using holy water, or performing rituals to remove negative energy may help create a sense of spiritual cleanliness.
Salt Barriers
Salt, especially kosher sea salt, is a great way to temporarily stop ghostly shenanigans. You can sprinkle salt on the mirror or pour a line around it. It's a good idea to also pour salt along the entrances to the room.
Positive Energy
Positive energy, as in thoughts, prayers, and intentions, is powerful when it comes to supernatural protection. You can try the white light technique: It's one of my favorite techniques. In most cases, dark energy and malevolent entities don't like to fight with their targets. If you're too difficult, it calms down the spirits attached to the mirror.
Consult A Spiritual Leader
Seek guidance from a spiritual leader or advisor. They may offer insights, blessings, or rituals that align with your beliefs and can provide a sense of comfort. I usually handle the ghostly shenanigans by myself before calling in a pastor, priest, rabbi, imam or other religious leader. Before you do make the call, try to find out the religious background of the previous owners. Then match it to the spiritual counselor. Things can go bad fast if you have a Catholic priest try to clear a Native American spirit, for example.
Mirror Removal
This is the most practical solution. Get it out of the home. You can pour some salt on it to neutralize it. Then, take a blanket and put over the mirror. I also like to take an iron chain to wrap around it. The iron will help bind the spirit so it can't escape. Next, it's off to a cemetery to bury it. Once it's in hallowed ground, the haunted mirror is nullified.
However, you don't need to bury it or even take it to the cemetery. You can keep it covered and put it in a basement or attic. Just remember to renew the salt once a month and leave it wrapped in the blanket with the chain around it. If you ever take off the blanket and chain, the activity will start again.
Never Destroy The Mirror
One of the biggest mistakes you can make is to destroy the mirror. Breaking the glass or burning the it will release the spirits. This gives them freedom to attach to you. Once that happens, then we move into a possession scenario, and that's going to cause a lot of harm to you and your family. Never destroy the mirror. Remove it like mentioned above.
We posted on haunted objects in an older post. It has more useful information about cursed and haunted objects to help you.
Ghostly Activities' Experience With Haunted Mirrors
Back in Chicago, I got a case from the North Shore town of Kenilworth. A family contacted me about poltergeist-like activity that suddenly started. They had never had anything close to ghostly shenanigans in their home of 30 years.
After they described what happened, it seemed like they brought a haunted object into the home. You see, haunted objects are notorious for rapid onset hauntings. After asking a series of questions about possessions, the lady of the house stated she had recently gone to an estate sale and bought some antiques. Those items dated back to the early 1900s.
One item, a beautiful mirror with an Art Deco-like frame, stood out. It was about the size of a notebook. Our client said it reminded her of her grandmother, and she would comb her before bed in front of it. The lady already loved having it in her bedroom.
That set off some red flags. An antique. Emotional connection. Reminders of a past loved one. That had to be it.
I asked her to salt it, wrap a towel around it, put a chain around it, and put it in the attic. After that, the activity stopped. The last I heard, the mirror still sits in the attic.
Sources
Kate Golembiewski (Oct. 12, 2022). "The Spooky Science of Why Mirrors Can Freak Us Out So Much," Atlas Obscura, retrieved from: https://www.atlasobscura.com/articles/haunted-mirrors-strange-face-illusion
Blacktooth (Jan. 8, 2018). "Haunted Mirrors In Horror – 10 Horror Movies With Deadly Mirrors," Horror Society, retrieved from: https://www.horrorsociety.com/2018/01/08/180224/
Hannah (October 2022). "Haunted Mirror Myths & Superstitions," TwoWayMirrors.com, retrieved from: https://www.twowaymirrors.com/haunted-mirror-myths/
Phoenix Vald (Dec. 30, 2021). "Haunted Mirrors, Bloody Mary and Superstitious Mirror Mythology," Ancient Origins, retrieved from: https://www.ancient-origins.net/myths-legends/mirrors-0016245
Staff writer (Oct. 1, 2019). "History of haunted mirrors," Shore Home & Garden Magazine, retrieved from: https://shorehomeandgarden.com/2019/10/01/history-of-haunted-mirrors/
Jarrett Bellini (Feb. 23, 2013). "Apparently This Matters: Selling a haunted mirror," CNN, retrieved from: https://www.cnn.com/2013/02/22/tech/social-media/apparently-this-matters-haunted-mirror/index.html
Editors (Oct. 9, 2020). "A Brief History of Haunted Mirrors and Photos," KnotMagick Studios, retrieved from: https://knotmagickknitter.wordpress.com/2020/10/09/a-brief-history-of-haunted-mirrors-and-photos/
Hadley Mendelsohn (June 2, 2021). "Are Antique Mirrors Evil and Creepy or Are We Just Superstitious?," House Beautiful, retrieved from: https://www.housebeautiful.com/lifestyle/a36531388/haunted-mirrors/
Editors (Dec. 4, 2023). "Bloody Mary (folklore)," Wikipedia, retrieved from: https://en.wikipedia.org/wiki/Bloody_Mary_(folklore)
Staff writer (no date). "Mirrors in Ghost lore," Occult World, retrieved from: https://occult-world.com/mirrors-ghost-lore/
Leo S (December 2022). "The spooky science of haunted mirrors and superstitious mirror mythology," Random Times, retrieved from: https://random-times.com/2022/10/24/the-spooky-science-of-haunted-mirrors-and-superstitious-mirror-mythology/
Lenora et al. (May 2021). "The Haunted Mirror: History, Folklore and the Supernatural from the Haunted Palace Blog," The Haunted Palace blog, print collection, 1st edition.